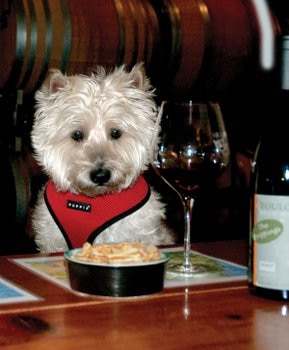 Let me introduce myself, my name is Hairy Putter and I am a six-year-old Cairn terrier. My good friends at Pets Best Insurance have asked me to share with you some of the fabulous fun you and your uprights can have traveling together.
You no doubt have heard the old adage, "it's a dog's life" and maybe wondered what exactly does that mean? Well, I can't speak for every dog but I can tell you what it means for me. You see, I have quite a unique life. For a start, I live in one of the most dog friendly and beautiful places in the country, Mendocino County, California and I have a very great and wonderful job.
I am the Director of Barketing and I work for Visit Mendocino County, Inc., the promotional arm of Mendocino County, barking to the world about all the fun activities and adventures that you can have when you visit. I also have a blog, where I review and share pet friendly places and establishments; my Pet Friendly Travel Guide for Mendocino County is also available for download.  ­­

In Mendocino County, uprights and canines can do so much together. We can catch a canoe, eat with a Moose, ride a skunk, chase the whales, walk among giants, hunt for glittering treasure on a glass beach and play with the locals at the off-leash dog parks and beaches. Your uprights will be able to join you in almost anything: wine and beer tasting, dining, shopping, art appreciation, hiking, activity adventures, and of course, relaxing and plenty of napping. You will discover while you are visiting Mendocino County why we have gone to the dogs and why that is just fine with us.

Or Call 877-738-7237 to speak with a Pets Best Insurance Agent to Add a Pet to Your Current Policy
Even though water is my beverage of choice, one of the perfect activities for uprights and four-leggers to do together is wine tasting! And unlike Napa and Sonoma Counties, in Mendocino County we are welcomed in the tasting rooms of over 90% of the wineries and several of the microbreweries too.
When the weather is hot, we can keep cool by accompanying the uprights into the tasting rooms where fresh water, healthy treats and plenty of patting await you. A couple of the wineries have off-leash enclosures for us to romp and roll in. Wineries can be found all over the county; some areas of note include Redwood Valley, Hopland and Ukiah on Highway 101. Highway 128 through Anderson Valley, a favorite winery-visiting destination, will take you straight through the heart of the county to the spectacular rugged coast of Mendocino County.
Pet friendly lodging is abundant in Mendocino County and an accommodation for every pocket is available; pet fees vary, so do rules and regulations.
In order to encourage establishments to continue welcoming pets it is vital that your uprights please­­ read the establishments guidelines, adhere to them, and be respectful to non-pet guests. The more we integrate and behave the more uprights will keep opening their doors to us. We all love to eat— in fact, eating and napping go paw to paw for me. Establishments in Mendocino County with alfresco dining welcome well-behaved, four-pawed diners, some even have menus just for us.
The beauty of Mendocino County is unsurpassed and the activities for us to participate in limitless. If there is a river the chances are you can kayak or canoe as most rental and guided tour companies will allow us on board and some even provide life preservers in sizes for all of us. If you have your own life jacket, don't forget to bring it along. Want to go out to sea? We are welcome on several fishing and whale watching charters. Hiking is a great pastime and Mendocino County has plenty of trails where we can hike merrily along side our uprights.
Most of the county and state parks, even some that have giant redwoods, allow us to explore them on-leash. The Mendocino Coast Botanical Gardens in Fort Bragg gives us 47 acres of ocean front spectacular grounds to walk on-leash. The cities of Ukiah, Fort Bragg and the village of Mendocino have off-leash dog parks and Fort Bragg has an off-leash beach at Noyo Harbor. We are welcome on-leash at most all other beaches. One of my favorite adventures is to ride the Skunk Train, one of the oldest operating railways in the country. This journey takes you into the heart of the county paralleling the Noyo River and traveling through breathtaking redwoods.
For more information about pet health, behavior or to get dog insurance, visit Pets Best Insurance.