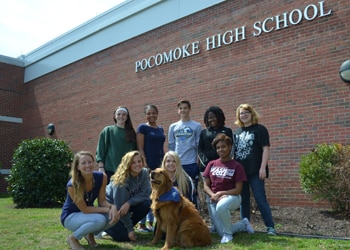 Pets Best Hosts fourth annual contest to recognize therapy dogs in classrooms and libraries across the United States.
BOISE, Idaho – Pets Best Insurance Services, LLC, a leading U.S. pet health insurance agency, today announced the winner of its fourth annual Books & Barks Contest. Rudy, a therapy dog that works full-time with the students at Pocomoke High School in Maryland, won the contest with a total of 2,209 votes.
The Books & Barks Contest was created by Pets Best Insurance in 2014 to recognize and bring awareness to the inspirational work of therapy dogs in classrooms and libraries across the nation. Individuals voted in support of the four finalists from across the U.S., casting their votes on the Pets Best Facebook page. Runner-up Sadie, a seven-year-old Great Pyrenees from Ohio, came in a close second with 1,849 votes. The other finalists included Copper, who works full time at B.F. Kitchen Elementary School in Loveland, Colorado, and Leeloo, who frequently visits the students at Douglas Elementary School in San Antonio, Texas.
"Pets Best is proud of all of our finalists and pleased that our 2017 contest received such an enthusiastic response from the public," said Chris L. Middleton, president of Pets Best. "Therapy dog programs play an increasingly significant role in the school setting and it's wonderful to see communities supporting these amazing animals."
Jessi Bova, Rudy's owner and handler, nominated the Golden Retriever for the contest after seeing the difference he has made in the lives of students at the Pocomoke High School, where she works as a counselor. Now in his fourth year of therapy dog work, Rudy has spent the last year commuting to school each day with Bova, where he works alongside her and with students.  "He brings a sense of hope and purpose to many of our students and a smile to every face," says the school's principal, Annette Wallace. "He helps anxious students during exams and visits classrooms when requested. This helps to facilitate a positive school culture which is a priority at Pocomoke High School." In addition to classroom visits, Rudy frequents the library, the suspension room, and interacts with students in the hallways during the transition times between class periods.
As part of the contest, Pets Best awarded $1,000 to Pocomoke High School and $500 to an animal charity selected by Bova. The school is finalizing its plans for the funds, as it has several needs-based ideas that will increase student reading time. "We plan to ask Rudy which idea he likes best!" says Wallace. Bova chose to split a portion of the non-profit proceeds between Wooster County Humane Society and Pets on Wheels of Delmarva, the program through which Rudy and other therapy dogs become certified to assist those in their communities.
The school used social media, the local news, and its daily announcements to promote the contest. And the local response to Rudy's nomination has been overwhelmingly positive. During the contest, Rudy made an appearance on Pocomoke High School's morning announcements — while wearing his best tie. He even appeared on a segment of DelmarvaLife, a local TV program, with two of his best friends (Jessi and Annette) by his side.
"Even the parents got involved and voted for Rudy," says Bova. "But since the kids are with him every day, they wanted to vote, too!" In a moving display of camaraderie that would make Rudy proud, students rallied behind the Golden Retriever whenever they had a free moment. "They're so into technology and many voted from their phones on their lunch hours," says Bova. "Several students talked each other through the voting process and helped one another."
And Rudy's big win? "It's been a victory for the entire school," says Bova. "Rudy seems excited, too — but I'm not sure if he knows yet," she jokes. One thing is certain, however: this lovable retriever has invigorated the students, and he continues to make a difference, even as the contest winds down. "He has a huge following, and a lot of the kids are still talking about it — 'Rudy, we can't believe you won! We voted for you and you won!'" says Bova. "One parent called me and said they're now considering getting a companion dog for their daughter who has anxiety because Rudy has helped her so much."
Read more about Rudy here.
Pets Best hosts the Books and Barks contest annually, with the next contest scheduled for spring 2018. Follow Pets Best on Facebook and Twitter to stay updated about upcoming contest dates. To enter the 2018 Books & Barks contest, visit https://www.petsbest.com/forms/books-barks-contest.
About Pets Best Insurance Services, LLC
Dr. Jack L. Stephens, founder of Pets Best, started pet insurance in the U.S. in 1981 with a mission to end euthanasia when pet owners couldn't afford veterinary treatment. Dr. Stephens went on to present the first U.S. pet insurance policy to famous television dog Lassie. Pets Best provides coverage for dogs and cats. Dr. Stephens' passion for quality pet care and his expert veterinary knowledge guides the Pets Best team. He is always available to answer questions regarding veterinary medicine, pet health and pet insurance. The Pets Best team is a group of pet lovers who strive to deliver quality customer service and value. Visit www.petsbest.com for more information.
Pets Best is a proud member of the North American Pet Health Insurance Association (NAPHIA).
###