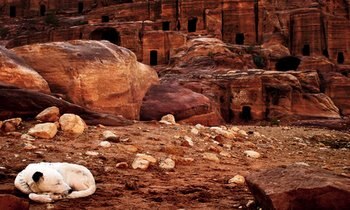 Zak Anderegg wasn't expecting to find anything but rocks when he rappelled deep into a slot canyon near the Utah-Arizona border—so when he came upon a puppy in dire need of dog health care, he was shocked.
After climbing 350 feet into the rift, Anderegg was stunned to discover the small, emaciated puppy, stuck at the bottom of the deep crevice all by itself.
"He was completely starved," Anderegg told KSL.com. "He was, my best guess, 24 to 48 hours from being dead."
According to the news provider, the canyon was so deep and narrow, some of the sections were pitch black in the middle of the day.
"I cannot believe I found this guy down in this frickin' pothole in this canyon," Anderegg told the source. "The rim of the canyon is 350 feet above us, so falling from the rim would have killed him."
That's why the rock climber thinks the dog was intentionally left there.
"Every single time I work it through my head, I come up with the same answer: someone put him there," he told the news provider.
Andreegg provided the pup, which needed immediate dog health care, with water and food before he climbed out of the canyon for help.
After a local Arizona town refused to send out their fire department and sheriff to help rescue the dog, Anderegg decided to take matters into his own hands.
"I took risks," Anderegg told the news provider.
According to the site, Anderegg went back the next morning and "rigged up a system to attach [an animal carrier] to his ropes… then he climbed back out" with the dog in tow.
KSL.com reported that Anderegg then immediately took the pup to a vet clinic where it received dog health care.
Anderegg told the news provider that the dog, which he calls "Puppy," is in substantially better pet health now.
"The rate of improvement is just incredible," Anderegg told the news source. "I'd say within two weeks he'll be at his weight."
According to the source, Anderegg hasn't decided whether to keep the pup- because he already has so many other pets.
If you are interested in adopting "Puppy," contact Zak Anderegg at zak@wrench-it.com.