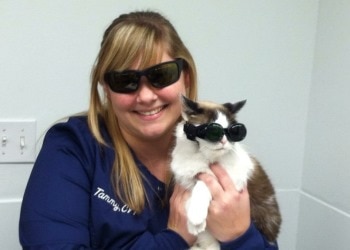 At Pets Best, we believe the veterinary industry is empowered by the many certified veterinary technicians who, through their hard work and dedication, make a difference in the lives of their patients each and every day. We created the Why I Love Being a Vet Tech contest to acknowledge their tireless efforts. In partnership with the National Association of Veterinary Technicians in America (NAVTA), we are pleased to announce this year's top eight finalists.
Meet Tammy Guerts, a Certified Veterinary Technician and graduate of Milwaukee Area Technical College. In 2006 she began working at Animal Hospital of De Pere in De Pere, Wisconsin and never looked back.
While in college, Tammy adopted Satin, who was already blind and deaf at the age of three. Today, the 16-year-old Snowshoe/Siamese mix is still happy to call Tammy part of her fur-ever family. In 2007 Tammy adopted Ivy, a three-legged tabby surrendered to the clinic by her previous owner, who accidentally ran Ivy over as a kitten.
When she doesn't have a cat on her lap, Tammy enjoys painting, drawing, yoga, and photography. She also volunteers with the NEW Zoo, Happily Ever After pet sanctuary, and Cats Anonymous, a program that aims to better the lives and reduce the number of semi-feral and feral cats in Northeast Wisconsin. Tammy also volunteers as a board member for her sister's non-profit theater company, American Soapbox Theatrical.
Read on to learn more about Tammy and her contribution to the veterinary community.
Why did you choose to become a vet tech?
I've always loved animals, but it was my Aunt Betsy, a veterinarian, who really inspired my desire to make helping animals my career. Her example led me to become a veterinary technician. I feel having a passion for my career makes a positive difference in the lives of the pets and families I get the pleasure to work with.
Why do you love being a vet tech?
I love the silent understanding between you and an animal when you are helping them. When animals trust you are there to help, protect, and heal them, it speeds along their healing process. Soon our patient will return to being the bouncy Lab the whole staff loves—or a content, purring kitty, rather than a kitty cowering in the back of the cage. We are all here to help and heal animals and that builds bonds not only with the animals, but the owners that love their animals so much. That is what keeps me returning cheerfully to my clinic everyday. Everybody has difficult days when we lose a dear patient, and those are the days that a cheery puppy or purring kitten can make a world of difference. I love being a vet tech and would not trade it for anything!
If you could improve upon or change one thing about the veterinary industry, what would that be?
I would like to educate the general public about how much of a commitment an animal is. Animals require time, money and attention and every animal deserves to have a fulfilling life without neglect or mistreatment.
Does your clinic talk to clients about pet insurance?
Our clinic discusses pet insurance with our clients, and we especially recommend it for breeds known to have issues with skin and ear infections, and for working dogs like hunting and herding dogs. Pet insurance can come in very handy, whether it's for a routine procedure, vaccine, or emergency.
–
We invite you to stay tuned to our blog, where we will share in-depth Q&A sessions we held with the remaining finalists. (You can learn more about the Why I Love Being a Vet Tech Contest here.) The contest winner will receive a one-year NAVTA membership and a paid trip to the 2017 North American Veterinary Community Conference. You may vote here for Tammy or any of the other finalists once a day through Thursday, October 6th.