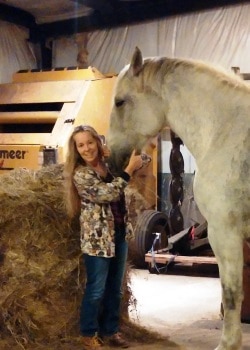 At Pets Best, we believe the veterinary industry is empowered by the many certified veterinary technicians who, through their hard work and dedication, make a difference in the lives of their patients each and every day. We created the Why I Love Being a Vet Tech contest to acknowledge their tireless efforts. In partnership with the National Association of Veterinary Technicians in America (NAVTA), we are pleased to announce this year's top eight finalists.
Meet Pamela Mahlie, a Registered Veterinary Technician with more than 30 years of experience. She works at Western Veterinary Clinic in South Bend, Indiana.
One of Pam's favorite activities outside of the clinic is Jazzercise, which keeps her strong enough to wrestle draft horses and 150-pound Rottweilers at work! When she's not dancing or wrangling her pet patients, she enjoys spending time with her husband, children, grandkids, and Steeler, a six-year-old Belgian sheepdog. Steeler's fun, idiosyncratic personality and "firework anxiety" have indeed steeled her for anxious patients and taught her to empathize with clients.
Her passion for animals doesn't stop at the end of the day: veterinary journals, books on animal behavior, and the occasional online jigsaw puzzle provide her with relaxation and enjoyment.
Read on to learn more about Pam and her contribution to the veterinary community.
Why did you choose to become a vet tech?
I am a typical girl who has loved animals since I was a child. I remember getting my brothers to help me splint the leg of a frog we found in the brook beside our house. I started working for vets who did dairy work when I was 12 years old in upstate New York—spending time out on the farms in cow manure got me hooked!
Why do you love being a vet tech?
Having been an RVT (Registered Veterinary Technician) for over 30 years gives me plenty to reflect on. I have been described occasionally as unusual in that I probably love the human clients we work with as much as or even more than I love their animals. What I do know is some of the dearest moments in my life are in those exam rooms: educating a young family about their first puppy or kitten; holding the hand of seniors as I try to help them make a tough decision about whether to let go of a pet that sat on their spouse's death bed only months before; catching puppies with coworkers during a C-section; holding a squealing pot-bellied pig for a hoof trim; and going into classrooms to share pets or explaining to toddlers how to stay safe around animals. As humans, we are intrigued by other species, but our understanding of their needs is often so poor. Even with a special interest in behavior, I learn every day from watching the human and animal bond and realize none of us can ever have all the answers. These creatures are a gift from God, and they make us better people. It has been a privilege and a blessing for me to have a profession that allows me to see, share and help to nurture that connection on a daily basis. I plan on working until I can no longer walk! Thank you for supporting us in our life's work!
If you could improve upon or change one thing about the veterinary industry, what would that be?
Continue to establish more understanding of what our profession is about and somehow raise salaries to a more respectable level to keep my peers in the profession.
Does your clinic talk to clients about pet insurance?
We have several clients who use pet insurance. My last employer purchased pet insurance for employee pets.
–
We invite you to stay tuned to our blog, where we will share in-depth Q&A sessions we held with the remaining finalists. (You can learn more about the Why I Love Being a Vet Tech Contest here.) The contest winner will receive a one-year NAVTA membership and a paid trip to the 2017 North American Veterinary Community Conference. You may vote here for Pamela or any of the other finalists once a day through Thursday, October 6th.