By: H.R.
Pets Best Insurance Editorial Manager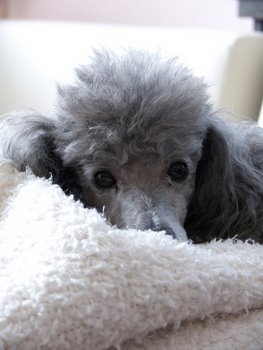 My favorite memory of Stella is the day we were sitting outside enjoying the sunshine, and a lady bug landed right on the tip of her little wet nose.
Being a Teacup Poodle, Stella was so small that my mother would put her in her bathrobe pocket as she got ready for work each morning. Before we knew it, Stella was part of our family. It was amazing to all of us how much joy this tiny doggie brought into our lives.
Although she only weighed about 3 lbs, Stella accompanied us on family hikes up to Norton Lake, and came with us nearly anywhere else we went. After some pleading, she also earned the right to sleep in my mother's or my bed at night.
The day I left for college, Stella paced back and forth down our hallway, monitoring all the luggage and boxes that were being moved from my room to the car parked out front.
My mother called a few days later to say that Stella was sitting outside my closed bedroom door, waiting for me. That is the first time I felt my heart break a little.
The second time was a few years later.
After I finished college, I moved back to my hometown. Although I didn't see Stella as often as I should have, she was still as big a part of our family as ever.
My mom called one afternoon to let me know that the little dog's health had been declining. Within a few weeks, and after thousands of dollars in veterinary bills, a final surgery did her in. Stella had developed an infection her tiny body just couldn't fight off.
I had never been so heart broken in my life.
Losing Stella wasn't easy for any of us, and the monthly vet bill my mother faced after her passing made it even harder. Because of my experience with Stella, I understood the importance of pet insurance long before I began working for a pet insurance company .
Although it pains me to think about my current dog's final days, I recently enrolled La La with Pets Best Insurance. I know that losing her will be just as painful as it was to lose Stella, maybe even more so… but I also know that Pets Best Insurance will help me financially, and also pay a limited amount for her burial, cremation and even euthanasia, should it be the only humane option.
Losing a pet is among the most difficult experiences a person can endure, but pet insurance can significantly help ease the financial blow. It helps immensely to be able to grieve and mourn the passing of a pet without having to worry about money too.