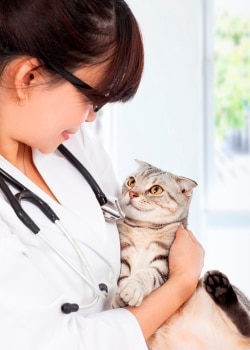 Pet insurance agency hopes to help cat owners recognize symptoms of common conditions
BOISE, Idaho – In recognition of National Take Your Cat to the Vet Day on Aug. 22, Pets Best Insurance Services, LLC has released a list of the five most common feline illness claims filed by the agency's clients. Pets Best, a leading nationwide pet insurance agency, released the list today to help cat owners recognize the symptoms of common illnesses and seek veterinary treatment when necessary.
Although it is commonly believed that cats rarely fall ill, Pets Best reports that five of the most common feline health issues represent approximately 30 percent of the agency's total claims for cats across the nation. These illnesses and conditions can often be difficult to identify, as cats instinctively tend to hide ailments from their owners. Catching serious health problems early on is crucial, as these issues not only dramatically impact felines' quality of life, but they can also result in steep treatment costs.
"Cat owners view their pets' health as a high priority, yet many are unaware of the subtle warning signs that indicate their animals are suffering," said Dr. Jack Stephens, president and founder of Pets Best. "It is our mission to keep pets healthy and ensure their owners are able to afford treatment when health issues arise."
Pets Best encourages cat owners to watch closely for the symptoms of the five most common conditions among cat-related claims filed with the agency.
1. Chronic kidney failure
Symptoms can include anorexia, vomiting, lethargy, diarrhea, constipation, depression and weight loss. Additional warning signs are increased thirst, acute blindness, seizures and comas, blood in the cat's urine, increased frequency of urination and an increased amount of urine. Chronic kidney failure represents 8.5 percent of all feline claims received by Pets Best.
2. Hyperthyroidism
Common symptoms are a voracious appetite, weight loss, increased thirst and urination, vomiting, diarrhea and restlessness. This condition generates 7.1 percent of Pets Best's feline claims.
3. Allergies
Skin allergy symptoms often include raised, thickened raw skin, small scabs, face and ear itching and bald spots. Food allergies tend to include scabs and other signs of itching around the face or neck. Although not life-threatening, allergies can be painful and irritating to cats, as well as costly to treat. This represents 6.5 percent of all feline claims received by Pets Best.
4. Cancer
Cat owners should watch for symptoms like lumps and bumps on the skin, lack of appetite, lethargy, excessive salivation, difficulty chewing or swallowing, rapid weight loss and abnormal discharges. Other warning signs include abnormal odors, abnormal defecation and urination, vomiting and diarrhea. All types of cancer, including lymphoma, mammary, oral, thyroid and lung, account for 5.6 percent of the agency's feline claims.
5. Diabetes
Symptoms include increased thirst and urine, unusual appetite and rapid weight loss. Diabetes accounts for 3.6 percent of all cat claims filed with Pets Best.
Pets Best has observed that many cat owners mistakenly believe that indoor felines will not become seriously ill. Although indoor cats are not as susceptible to injuries as outdoor felines, there are still hundreds of costly medical conditions that may develop.
As a result of cats' distinct health trends, Pets Best offers a feline-specific insurance plan that helps cat owners afford the best veterinary care for their pets. The Feline Illness plan, the first of its kind, covers the diagnosis and treatment of many costly and chronic feline illnesses. Unlike Pets Best's standard plans, the Feline Illness plan does not include coverage for general accidents, many minor illnesses and routine care. Illnesses covered in the plan include chronic kidney failure, hyperthyroidism, cancer, diabetes and pancreatitis. In total, the plan covers 21 illnesses and starts at less than $5 per month.
"Indoor cats may not experience emergency accidents as often as other animals, but that doesn't mean they never fall ill or need treatment," Dr. Stephens said. "Pets Best encourages all cat owners to consider the benefits of pet insurance plans, which can significantly reduce out-of-pocket costs for veterinary care and help cats enjoy longer, happier lives."
For more information about the plans offered by Pets Best, visit www.petsbest.com.
About Pets Best Insurance Services, LLC
Dr. Jack L. Stephens, president of Pets Best, founded pet insurance in the U.S. in 1981 with a mission to end euthanasia when pet owners couldn't afford veterinary treatment. Dr. Stephens went on to present the first U.S. pet insurance policy to famous television dog Lassie. Pets Best provides coverage for dogs and cats and is the only veterinarian founded and operated pet insurance agency in the United States. Dr. Stephens leads the Pets Best team with his passion for quality pet care and his expert veterinary knowledge. He is always available to answer questions regarding veterinary medicine, pet health and pet insurance. The Pets Best team is a group of pet lovers who strive to deliver quality customer service and value. Visit www.petsbest.com for more information.
Pet insurance coverage offered and administered by Pets Best Insurance Services, LLC is underwritten by Independence American Insurance Company, a Delaware insurance company. Independence American Insurance Company is a member of The IHC Group, an organization of insurance carriers and marketing and administrative affiliates that has been providing life, health, disability, medical stop-loss and specialty insurance solutions to groups and individuals for over 30 years. For information on The IHC Group, visit: www.ihcgroup.com. Additional insurance services administered by Pets Best Insurance Services, LLC are underwritten by Prime Insurance Company. Some existing business is underwritten by Aetna Insurance Company of Connecticut. Each insurer has sole financial responsibility for its own products.
Pets Best is a proud member of the North America Pet Health Insurance Association (NAPHIA).
###