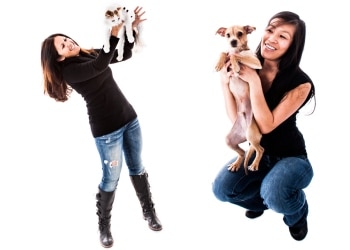 Latest My Vet's the Best contest honors veterinarian duo as winners
Boise, Idaho – Pets Best Insurance Services, LLC, a leading U.S. pet insurance agency based in Boise, Idaho, announced today that veterinarians Drs. Diane Tang and Michelle Zoryan have been voted the most recent winners of the agency's My Vet's the Best contest. The nationwide contest honors veterinarians for outstanding service.
The latest round of the contest brought in 13,630 votes cast from pet owners across the U.S. on the Pets Best website, www.petsbest.com, and on the company's Facebook page.
"We created the My Vet's the Best Contest to bring awareness and appreciation to the country's most exceptional veterinarians," said Dr. Jack Stephens, founder and president of Pets Best. "Giving veterinarians the recognition they deserve is and always will be a top priority for Pets Best."
Drs. Tang and Zoryan, who practice at the Mohawk Alley Animal Hospital in Los Angeles, won the contest after receiving 4,462 online votes. They were among hundreds of veterinarians nominated for the award. As the winners, they received $1,000 from Pets Best to treat animals in need. The pet owner who nominated the winning veterinarians also received $200 from Pets Best.
The contest's other five finalists each received a significant number of votes, with runner-up Dr. Robert Stein from Amherst Small Animal Hospital in Amherst, N.Y., finishing only 162 votes behind the winners.
Drs. Tang and Zoryan are known for donating their free time to help animals in need. The two doctors have fostered a total of six cats and one dog. The veterinarians met while working together at an animal hospital in Glendale, Calif., where Dr. Zoryan mentored Dr. Tang. Their dream of owning their own practice came true when they recently opened the Mohawk Alley Animal Hospital.
Dr. Tang graduated from Western University College of Veterinary Medicine in 2011. In her free time, she enjoys spending time with her husband and their three furry children, which include two dogs and one cat.
"It means the world to us that we won this contest," Dr. Tang said. "As a relatively new hospital, knowing we have the support of our clients and community makes everything that we do so much more meaningful."
Dr. Zoryan earned her doctorate in veterinary medicine from Kansas State University in 2003. She is a self-proclaimed vizsla lover who owns two dogs named Lola and Osh. She is also the parent of three adopted cats.
"To be named the 'Best Vet' means that our clients trust us and the work we do to help their pets," Dr. Zoryan said.
The two doctors plan to use their $1,000 prize to support their rescue efforts. With a dedicated area for rescued cats in their hospital, they plan to provide the pets with a comfortable living area until they are adopted.
In 2010, Pets Best became the nation's first pet insurance company to develop a contest aimed at recognizing outstanding veterinarians. Each year, hundreds of veterinarians receive nominations from grateful pet owners. While voting for the contest's seasonal winners is open to the public through the Pets Best website and Facebook page, each year's grand prize winner is selected by an internal review panel comprised of respected veterinarians.
For more information about the My Vet's the Best contest, visit www.petsbest.com/vetpromo.
About Pets Best Insurance Services, LLC
Dr. Jack L. Stephens, president of Pets Best, founded pet insurance in the U.S. in 1981 with a mission to end euthanasia when pet owners couldn't afford veterinary treatment. Dr. Stephens went on to present the first U.S. pet insurance policy to famous television dog Lassie. Pets Best provides coverage for dogs and cats and is the only veterinarian founded and operated pet insurance company in the United States. Dr. Stephens leads the Pets Best team with his passion for quality pet care and his expert veterinary knowledge. He is always available to answer questions regarding veterinarian medicine, pet health and pet insurance. The Pets Best team is a group of pet lovers who strive to deliver quality customer service and value. Visit www.petsbest.com for more information.
Pet insurance coverage offered and administered by Pets Best Insurance Services, LLC is underwritten by Independence American Insurance Company, a Delaware Insurance company. Independence American Insurance Company is a member of The IHC Group, an organization of insurance carriers and marketing and administrative affiliates that has been providing life, health, disability, medical stop-loss and specialty insurance solutions to groups and individuals for over 30 years. For information on The IHC Group, visit: www.ihcgroup.com. Some existing business is underwritten by Aetna Insurance Company of Connecticut. Each insurer has sole financial responsibility for its own products.
Pets Best is a proud member of the North America Pet Health Insurance Association (NAPHIA).
###