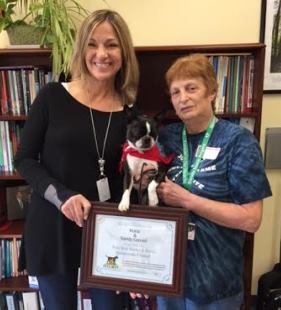 A follow up on the first Pets Best Books & Barks Contest winner. By Pets Best, a U.S. pet health insurance agency.
You might remember Kona, the three-year-old Boston terrier therapy dog who won our first ever Books & Barks Contest in 2014. Kona played an integral role in the grief counseling provided to students in Newtown, Connecticut after a senseless school shooting at Sandy Hook Elementary rocked the tiny community. In the years that have followed her recognition, Kona has continued to make an impact.
Not only does she continue to visit the students of Newtown, the dog therapy program has expanded to include nine dogs in the school district. What began with a call to dog handlers from Therapy Dogs International has become a long-term dedication toward helping kids in Newtown. "She had a calling," says Kona's owner and handler, Sandra Cornell. "And she made a huge difference. This dog would do anything for someone in need, especially children."
Photo above: Therapy dog Kona, a Boston terrier, with her handler Sandy Cornell, and fifth grade teacher at Reed Intermediate School, Karen King.
As part of the contest, Pets Best awarded $1,000 to Reed Intermediate School, which chose to use the winnings to defray some of the expenses of dog owners and volunteers. After receiving a plaque from the school's principal, Kona and Cornell appeared in the local newspaper, The Newtown Bee. Cornell donated her $500 prize winnings to Charlotte's Litter, an organization that advocates for getting therapy dogs in schools throughout the country.
"I think they should be in every school," says Cornell. "I've seen what these dogs can do," she continues. "I've watched these dogs turn a crying, upset child calm after petting the dog for a while and having one-on-one time. They calm down and you're able to speak and reason with them."
Cornell is particularly aware of the sensitivities therapy dogs experience when someone is distressed. "If there are tense and upset children, dogs sense this," she explains. "If a child is having a bad day or crying, the dog is taking it all in."
"Therapy dogs sense who it is that needs them, and they will often walk right up to that person," says Cornell. She relates an experience from the dog therapy program's first year. One day, while Mrs. Karen King (the teacher who nominated Kona) was reading aloud to her fifth-grade class, Kona slowly crawled toward one student. "When she reached the boy, she lied down next to him and didn't move the entire time the teacher was reading," she says. "Well, when I left the room later, the teacher approached me and said, 'I want to let you know— your dog chose the one child in this room who lost a sibling.' At that moment, I knew I wasn't going anywhere."
According to Cornell, that student and Kona now have an unbreakable bond. When Kona visits Newtown each week, they make a special visit—to the same child who needed consoling several years ago.
"If that student needs Kona, she will be there," says Cornell. "I have followed students from fifth grade to eighth grade, and who will be going to high school next year. I try to stay with the children, so if they have a need to see Kona as they move to a new school, I do my best to oblige."
While the dogs are no longer incorporated into everyday activities, they are used to assist with reading programs throughout the school district, explains King. The dog therapy program in Newtown has been so successful, it has sparked media attention in the form of newspaper and magazine articles as well as the writing of books in the years since its inception.
Good Dogs, Great Listeners: The Story of Charlotte, Lily, and the Litter was written by the parents of one of the children killed in the Sandy Hook shooting, and is the inspirational story of how young Charlotte's dog helped her learn to love to read. Additionally, then-sixth-grader Guy Bacon wrote The Dogs of Newtown, a tribute to the pups that he said "made me feel safe".
As a small town in Connecticut recovers from unimaginable tragedy, the therapy dog program continues to help young students process their grief and grow academically. And the heroes at the helm of this program—administrators, teachers, counselors, therapy dogs, and their handlers—deserve appreciation for their efforts in bolstering up the community.
"This has been a difficult journey for many of us working with the children," says Cornell. "If it weren't Kona, I'd want a similar dog in Newtown to get recognition, because it was very hard work for the dogs. Kona was standing in for all the dogs who had helped so much in Newtown."
On behalf of students, parents, teachers, and administrators everywhere, we at Pets Best say thank you to Kona, Sandra Cornell, and all the therapy dogs and their handlers selflessly helping to improve the lives of children everywhere. We are honored to tell the stories of the dogs who are making a difference.
Our Best Content, Delivered Monthly