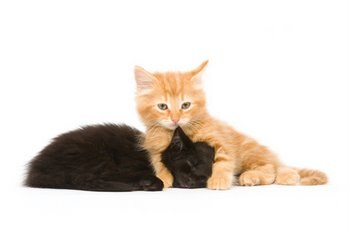 By: Dr. Jane Matheys
Associate Veterinarian
The Cat Doctor Veterinary Hospital
For Pets Best Insurance
Last time I wrote about getting your new kitten off to a good start with a proper home environment and plenty of socialization. This time we'll take a look at how a new owner must take a proactive role in a kitten's well being. Keeping a new kitten healthy isn't just about vaccines, medicine and cat insurance. Here's what else you need to consider:
The first veterinary visit should be scheduled very soon after you obtain your new kitten so that the doctor can perform a complete physical examination to make sure there aren't any pet health problems. This is typically when the kitten is around 6 to 8 weeks of age. Of course, it is very important to keep the kitten separate from the resident pets until it gets a clean bill of health from the veterinarian.
Every new kitten should be tested for FeLV (feline leukemia) and FIV (feline immunodeficiency virus or feline "AIDS") prior to introduction into the household. Many pet health insurance companies will even cover a portion of these costs with their wellness packages. These diseases can be transmitted to a kitten from its mother/father or from other cats that your new kitten may have been exposed to. Both of these diseases are fatal, so knowing the status of your kitten will help you manage its health and will also help protect other household or neighborhood cats in case he/she is infected with one of these diseases.
If your kitten does test positive, your veterinarian can give you advice on what to do and what to expect. The test for both of these viruses is a simple blood test which can be run in about 10 minutes.
Internal parasites or "worms" are also very common in kittens. Microscopic examination of a stool sample will usually help to determine the presence of intestinal worms. Regardless of the results, however, I recommend using a deworming product that is effective against the most common worm types: roundworms, hookworms and tapeworms. Roundworms are a human health risk that can be passed from kittens to humans through fecal-oral contamination, so good hygiene is a necessity, especially when young children are handling kittens.
The most common external parasites in kittens are fleas and ear mites. Fleas spend much of their time in the environment and only jump on the kitten to feed and lay eggs, so it important to kill fleas on your new kitten before they become established in your house. Stay away from store bought flea treatments since they are often not very effective and in many cases can be quite toxic. Always ask your veterinarian for advice on which products to use on your kitten. Ear mites are common in litters of kittens if their mother had ear mites. The most common signs of ear mite infection are a dry, dark ear discharge and scratching at the ears. Always have ear mites diagnosed by a veterinarian and never treat ear mites with an over the counter medication without consulting your veterinarian first.
Ringworm is actually a type of fungus that can affect both animals and humans. It generally occurs first on the feet, face, ears, and heads of kittens, but can appear anywhere. It typically presents as patchy areas of hair loss but can vary widely in appearance. Your veterinarian will be the best source of information on effective treatments and controlling it in your kitten's environment.
After you have signed your kitten up for the best pet insurance plan for you, the next most important aspect to be addressed is which vaccines should be administered and how often. While a whole host of vaccines is available for cats, it is essential to plan a well thought-out vaccine regimen to optimize the benefits of vaccination while minimizing the risks. The age you start vaccinating your kitten will determine how many initial vaccines are required. Your kitten's lifestyle (indoor or outdoor) will also determine which vaccines will be needed. This should be re-evaluated periodically throughout life. I follow the vaccine recommendations of the American Association of Feline Practitioners where the distemper/upper respiratory combination vaccine and the rabies vaccine are considered the two core vaccines for all cats.
The feline leukemia vaccination is recommended for all kittens because they are the most susceptible. Cat insurance companies like Pets Best Insurance even offer partial coverage for this vaccination with their wellness plan, so long as the kitten is at least 7 weeks old. Your cat's lifestyle will determine whether this vaccine is continued as an adult. Most vaccines should begin around 6-8 weeks of age, but they can be started after that. The last vaccine in a kitten series should be given around or after 16 weeks of age when the immune system is considered fully mature.
Your kitten should be spayed or neutered sometime between 4 and 6 months of age. Be a responsible pet owner and do your part in helping to prevent 3 to 4 million needless deaths of healthy dogs and cats every year due to pet overpopulation. Spaying and neutering greatly reduces the chances of certain cancers and infections, and it also greatly reduces unwanted behaviors such as urine spraying and roaming and fighting in males.
Dental disease is very common in cats, and the importance of regular tooth-brushing cannot be overemphasized. Training your cat to accept tooth-brushing is best started when it's young. My favorite video on how to brush your cat's teeth can be found at www.felinevideos.vet.cornell.edu.
It is also the best time to start training your kitten to get used to nail trimming and brushing the coat. You can do "mini-physicals" to have your kitten used to being examined and gently restrained. Lightly touch and manipulate the ears and mouth to get him/her used to being handled in these areas should the need for medicating arise in the future. This will also help you to know what is "normal" for your cat, so that you'll be better able to detect when anything is amiss. Early detection is always best.
As mentioned, this is a good time to check out pet insurance for your cat too. There are many plans available at a price that can fit your budget. It's always best to start the insurance while your cat is young and healthy so that medical conditions that may arise as your cat matures will be covered.
Once the initial flurry of visits is over, a healthy cat should still visit the veterinarian at least once a year. Twice a year is even better since cats age so much more quickly than people do. Starting your kitten off right, and following the wellness program designed by your veterinarian can help ensure a long, happy life for your cat.