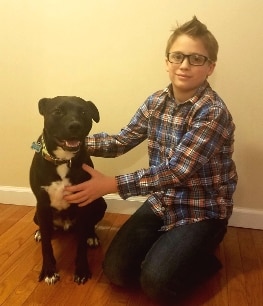 For any loving parent, seeing your own child suffer — either physically or emotionally — can be unbearable. And for moms and dads with children struggling to deal with anxiety and other personality disorders, the resulting feelings of powerlessness can be overwhelming.
However, a growing number of families are looking to therapy dogs to provide relief to their young ones who may be struggling with certain mental health conditions. In a recent Wall Street Journal article, James Serpell, director of the Center for the Interaction of Animals and Society at the University of Pennsylvania, says "some research indicates that animal interventions can help encourage social interactions and reduce behavioral outbursts in some children with autism-spectrum disorders as effectively as other conventional treatments, including cognitive-behavioral therapy."
But for Jennifer Brewer of Missouri, such a solution proved difficult to arrange. After watching helplessly as her nine-year-old son Jordin grappled with debilitating anxiety, she researched dog therapy programs, thinking such a program might be a good fit for their family. But she found adopting a certified therapy dog to be both cost-prohibitive and time-consuming.
When a family friend — also a volunteer for Gateway Pet Guardians, an animal shelter and pet rescue in the St. Louis metropolitan area — heard the Brewers were seeking a pet to provide emotional support for Jordin, she had an idea. As a nonprofit dedicated to eliminating the homeless animal problem in the community, Gateway had a standing reputation for rescuing, rehabilitating, fostering, and adopting many needy animals. In particular, the shelter's K9 Warrior Project had successfully united many rescued dogs with vets suffering from PTSD. So, she wondered, why couldn't the nonprofit also train these animals to make a difference in the lives of children who may be in need?
The Brewers loved the idea; they saw it as both a win-win for their son and for an animal in need of a forever home. After a routine screening process to determine appropriate timing and placement, a lab mix puppy named Hank was approved for adoption and he began his new life with the Brewers — and most importantly, with Jordin. In the months that followed, both boy and puppy have made changes that are no less than extraordinary.
"Just a year ago, my son was crying himself to sleep every night and would get so anxious about school he would throw up. It was heartbreaking," relates Brewer. But upon adopting Hank, she saw immediate changes. "He and my son bonded instantly," she says. "Within the first month, we knew it was going to be a fit."
From the beginning, Hank went to sleep with [Jordin] — a routine that has worked wonders to alleviate Jordin's anxiety. "We haven't had any tears since we've had him," explains Brewer. "His therapist also suggests that, when he is sad or anxious, he go in his bedroom and pet Hank. And it works every time — he calmed down within five minutes the other day," explains Brewer.
It has also been Jordin's responsibility to train Hank (with the help of a professional trainer and a Good Citizens Obedience Class). "What they've accomplished by themselves is incredible," says Brewer. After a few short months, Hank was already picking up on cues from Jordin that indicated he was distressed. "Hank's pretty sensitive; he knows if Jordin needs to pet him. He'll either lay on [Jordin's] lap or I will put him in Jordin's room," she adds. "They're good about snuggling, and that settles them both down. They're perfect for each other."
Right around the same time, Jordin began seeing a new therapist and was officially diagnosed with autism with level one anxiety (often referred to Aspbergers). With this clarity along with a change of medication, Jordin has a new lease on life — with boy's best friend at his side. "It's been life-changing," says Brewer. "Even his teachers at school, his principal, and counselors said, 'This isn't the same kid.' It has been the best school year ever."
Perhaps most compelling is how great a fit Hank and Jordin are for one another, partly because of similar struggles. "Sometimes Hank has anxiety, especially around other dogs," says Brewer. But she recognizes that, for both humans and their canine counterparts, some changes just take time. "I definitely feel like the longer [Hank is] in training, the more effective he will be," she says. "But even if he doesn't learn anything else, he's accomplished what we wanted him to."
Whether it's Hank or another animal waiting for adoption, one thing is certain: Jordin and Hank's reliance upon one another is the start of a life-long relationship, one that proves our furry friends need us as much as we need them.
More About Gateway Pet Guardians
It is stories like the one of Jordin and Hank that remind us of the hard work, compassion, and dedication of the staff at the many animal shelters around the nation. Gateway Pet Guardians is no exception. Not only does GPG drive the streets in their community daily to monitor the condition of homeless animals and provide them with food, this organization's multifaceted approach makes adoptions like Hank's possible. We chatted with Janet Roberts, Foster Mom and Foster Program Lead at GPG, to learn more about the benefits of adoption and their specific program.
What adoption arrangements does Gateway Pet Guardians have available for children or adults with behavioral of developmental disabilities?
JR: We are always eager to adopt to families needing companion animals for this specific purpose. We've had a few requests come through since the Brewers, and we work hard to find a match for the type of dog that is needed. We have an amazing program called the Matchmaker program that works with families to find the type of pet they need, and matches it with a dog within our system. This is a great program, because it also keeps us informed of the types of dogs in demand, and if we don't have them within our system, we can keep an eye out and save a life from Animal Control or the streets. It's a win for everybody.
What screening process is in place to determine the appropriateness of such an adoption?
JR: If someone wants to adopt a dog from Gateway Pet Guardians, they submit an application on our website. The screening process consists of a vet check (to make sure current and previous pets were up to date on vaccinations), a BSL check (if adopting a pit bull type dog), and a landlord check (if renting). In the Brewers' case, we then spent some time identifying a dog that fit their requirements. We had a trainer meet Hank and evaluate him for fit. The adopter then works with the dog's foster to set up a meet-and-greet, home visit, and then trial period to make sure it's a good fit.
If someone is interested in such a program, how do you recommend they proceed?
I would recommend doing research and finding out exactly the type of companion animal needed for your particular case. We have requests for service animals and emotional support dogs, and each case is different. Additionally, each home is different. The more you know about your situation and your needs, the easier it will be for us to find that perfect fit for you. Foster-based programs are a wonderful way to rescue an animal for this purpose. All of our adoptable dogs live in foster homes, and our fosters get to know the dogs very well. They know if they are dog friendly, cat friendly, what quirks they might or might not have, and start basic training with them so they are better able to adapt to their forever homes.
What would you say to anyone who is considering adopting a pet from a shelter?
Adopting a rescue dog is one of the most rewarding feelings in the world. Shelters and rescues are full of amazing animals waiting to complete a family. They are not broken or damaged; they were simply dealt a poor hand at life, and YOU can make the difference. When you adopt a rescued pet, you are giving that animal the opportunity to grow and flourish to be the companion animal they were meant to be and a second chance at life. The love and devotion the pet will show makes it all worth it.