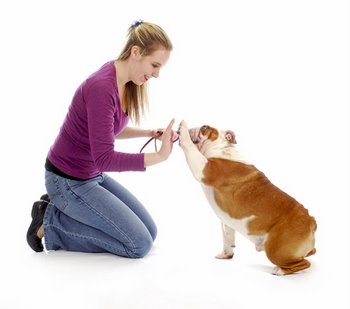 By: Judy Luther
Certified Professional Dog Trainer
For Pets Best Insurance
The Association of Pet Dog Trainers (APDT) has named January "National Train Your Dog" month. This is not only a great time to look into pet insurance for your best friend, but also to learn more about dog behavior and get started on a good positive training program for your pet. Trained pets are more enjoyable to live with and are a true asset to any family.
Training is a very important aspect of living with your dog. Like humans, dogs continually learn throughout their lives. Yes, even old dogs can learn new tricks, and need to have their minds challenged with learning new things. Older dogs love to learn new behaviors and learning keeps them healthy, by challenging them mentally and physically.
When you first bring home a puppy, even before you start researching pet health insurance, you will need to consider training. House training is one of the first things most people teach their dogs, but do you know a puppy can even learn basic behaviors such as, "come," "sit" and "down" at a very young age? Puppies are little knowledge sponges that soak up information quickly– which is why you should start training as soon as possible. I have personally consulted with several breeders regarding how they train their puppies before they go to live with their new families. Breeders should get puppies started on crate training, house training and even behaviors like sit, down, come and learning their names as soon as possible.
The key to any good training program is to keep it fun and reinforcing for the dog. Make training a game and your dog so they will enjoy the training and learn faster. Don't make training a chore, but rather a fun-filled, happy activity for you and your dog. Remember, through positive training programs, you will build a great relationship and a strong bond with your dog.

Or Call 877-738-7237 to Add a Pet to Your Current Policy
The APDT has set up a special website www.trainyourdogmonth.com to help pet owners gain a better understanding of how to train their pets using training methods that are kind, gentle and force free. Throughout the month there are free webinars, and training discussions, to help with your training questions. In addition, many trainers offer specials during the month of January to celebrate National Train Your Dog Month.
So whether you decide to take a class, hire a trainer for private training instruction or just train your dog independently, National Train Your Dog Month, is a great time to get started.
For more information about dog health and behavior, or pet insurance, visit Pets Best Insurance.