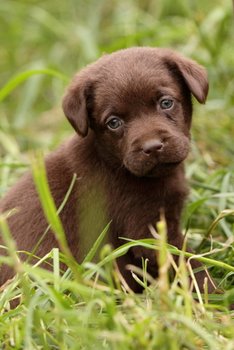 Puppies are cute, fluffy, cuddly creatures that everyone wants to hold and play with. But they eventually grow into dogs and as puppies grow, their needs change, which is why it's important to get pet insurance early.
"Puppies are a cross between a wayward bowling ball and a grasshopper…just add fur." That's animal behaviorist, "pet lifestyle expert," and author Colleen Paiges' apt description of a puppy. Anyone who's been in the presence of puppyhood can attest to it. Paige is the founder of National Puppy Day, which falls on March 23, 2011.
Colleen Paige founded National Puppy Day in 2006 as a celebration of the joy that puppies bring to our lives. But it's also to remind us of all the orphaned puppies that need adoption and the continued existence of abhorrent puppy mills. This holiday and others, like National Cat Day, are part of Paige's Animal Miracle Foundation & Network that helps educate people and fund programs for pet health, safety, and awareness.
Puppy Facts
• Newborn puppies are blind and deaf
• During their first week, about 90% of a puppy's day is sleeping and the other 10% eating
• Puppy's eyes open between one and two weeks old
• Puppies learn basic behaviors and discipline from their mother
A healthy dog depends on getting good puppy healthcare as they grow. Be sure and discuss your puppy's health requirements, such as immunizations, with your vet. Celebrate a puppy on National Puppy Day!