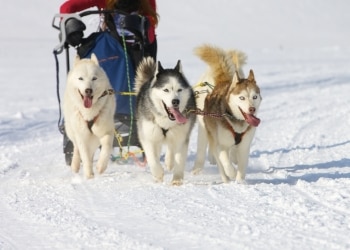 By Dr. Fiona, a veterinarian and writer for the Pets Best pet insurance agency for dogs and cats.
The Iditarod is an annual sled dog race that travels nearly 1,000 miles between Anchorage, in southern Alaska and Nome, Alaska. It is held each spring, this year's race will begin with a ceremony in Anchorage on March 7th, 2015. The race route follows the western Bering sea coast through harsh tundra, over rivers, hills and mountain passes.
Historically, portions of the Iditarod trail, now known as the Nation Historic trail were used as a mail and supply route from coastal towns to the interior mining towns which become completely ice bound during winter months.  Sled dogs delivered mail, food, and supplies and were the only means of communication. The invention of snowmobiles reduced the need for sled dogs and the tradition of "mushing" almost died out. The Iditarod race began in 1973 as a way to preserve sled dog culture and the Iditarod trail and has grown into the competitive race it is today.
Teams average 16 dogs, and there are usually close to 1,000 dogs in the race and 50 to 60 mushers. The race usually lasts between 9 and 15 days, with the quickest record being 8 days and 13 hours, and the longest lasting 32 days and 15 hours.
Typical weather conditions at this time of year during the race are sub-zero with strong winds and blizzard conditions creating poor visibility.  Wind chills often reach -100! The race is through the harsh tundra, through rivers and over hills and mountain passes.
The dogs were originally Inuit Sled dogs, but have been cross bred with Huskies to become the Alaskan sled dog primarily. They are bred for speed and endurance, as well as good attitude.
Volunteer veterinarians examine all the dogs prior to and during the race. The most common medical problems seen are lacerations and gastrointestinal issues. Dogs that become sick or exhausted can be carried in the sled's basket to the next drop point. During the 2014 Iditarod, Dr. Sarah Coburn, the Pets Best "My Vet's the Best" contest grand prize winner, assisted the Iditarod veterinary team with examining and treating dogs during the world-famous race. Read more about Dr. Coburn and her incredible story here.
The race is Alaska's most popular sporting event and is regarded as a symbolic link between traditions commemorating the legacy of dog mushing and the early history of Alaska.
 Dogs are Amazing, Protect Yours with Pet Insurance!

Get a Quick, Free Quote Online
or Call Pets Best at 877-738-7237