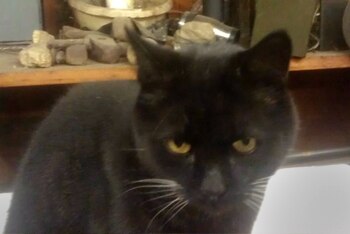 About two years ago, our cat Thompson got into some trouble while we were at work. Like many cats, he loves hanging out in the garage, and sometimes he'd fall asleep on top of the door when it was open. One morning without us knowing, he got trapped between the garage door and frame.
When my husband got home, he noticed Thompson was stuck and quickly removed him from the door, but soon discovered he was paralyzed in his back legs. Because we didn't have pet insurance and Thompson didn't seem to be in pain, we didn't rush him to the vet. Instead, we waited to see if he would recover on his own. Over the next few hours, we watched helplessly as our poor cat dragged his hind legs behind him.
We finally took him to the veterinarian that night. They took excellent care of him – treatment included all types of x-rays and an overnight stay. I was prepared to pay just about anything to make sure he'd be able to walk again. About $1,100 later, we got the good news that Thompson hadn't broken any bones. He was just badly bruised, and he did eventually regain the ability to walk.
We were fortunate to be able to pay that vet bill without having to consider heartbreaking alternatives, but if we had had a Pets Best Insurance plan, we would have been reimbursed around $800 (depending on our deductible and other plan details). And that's a lot of money – it's a mortgage payment, a couple months' worth of groceries or car payments.
Before I started working for Pets Best Insurance this year, there were many times my pets and my family really could have benefited from pet insurance. And every day, I hear stories of pets whose lives were saved, and their owners given financial relief, because of our plans. Pet insurance is something every pet owner should seriously consider.
Share Your Story and Win                                                   
Was there ever a time you wished you had pet insurance? Share your story with NAPHIA for a chance to win. And in honor of National Pet Health Insurance Month, please share this blog with your friends and family who own pets!