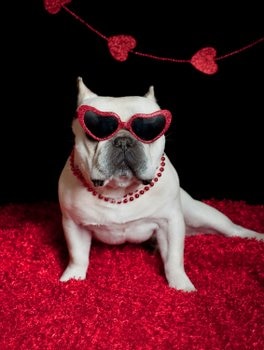 By: Chryssa Rich
For Pets Best Insurance
Happy Valentine's Day fellow pet insurance enthusiasts! There's something about human nature that makes us give nicknames to the ones we love most.
Think about it: You wouldn't call your boss Boo-Boo, nor would you call your neighbor Captain Fuzzypants. That would just be weird. But when it comes to our pets, almost nothing can stop the cute and silly nicknames we shower upon them.
We recently asked our Facebook friends which nicknames they have for their pets, and quickly discovered that most fall into one of five loving categories.
1. Inspired by the Pet's Actual Name
Some of our favorites were Miss Maddy Mayhem for Madison and Magga Dagga Doo for Maggie. And we love Cokie Dokie for Coco! It's also pretty popular to create the diminutive version of the name: Panchito, Bandito, Coopie, Hunty.
2. Inspired by the Pet's Vocal Abilities
My dog Jayda's nicknames are Miss Barky Pants and Woofie. We also heard about a Barky McBarkerson and a Meow Meow Kittycat.
3. Inspired by Random Thoughts
Lots of pet owners admitted they have no idea where their pets nicknames came from. Some of the most random included Boo Boo, Baby, Puppy (for a cat), Tatty Pants, JJ Ruggles, Bows-a-Roo, Zubie, Da Doots, Donkey and Bun Bun.
4. Inspired by the Pet's Body Parts
There's no room for being politically correct here! Big bellies and floppy skin are too adorable to go ignored. Hence nicknames like Li'l Boobers, Chunk Butt, Wiggle Butt, Fat Boy, Smushie Face and Fatty Fatty 2×4.

Or Call 877-738-7237 to Add a Pet to Your Current Policy
5. Inspired by the Pet's Bodily Functions – Voluntary or Otherwise
From kissing and licking to active digestive systems, we got a laugh out of these nicknames! Smoochy, Stinkybutt, Snifferdoodle, FruityToot, Wiggle Butt and Farty Pants are just a few of the names you'll hear our friends call out.
This Valentine's Day, give your pets plenty of hugs and kisses. And if they're not already insured, treat them to a pet insurance plan from Pets Best Insurance. Nothing says "I Love You" quite like insuring them for a lifetime of good health.
For more information about pet health or pet health insurance, visit Pets Best Insurance.