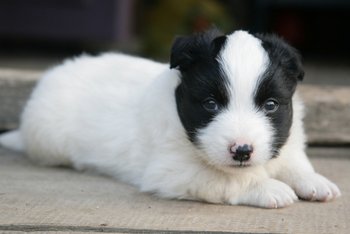 By: Judy Luther
Certified Professional Dog Trainer
For Pets Best Insurance
Before you invest in dog insurance or even teach your puppy to sit, you'll need to train your dog to let you know when he needs to go outside. If your dog can't communicate what he needs, he won't be able to succeed. One of my favorite ways to teach dogs to let their owners know they need to go outside, is by teaching them to ring a bell. While this sounds like it might be hard to do, follow the steps below and you'll have a house trained, bell-ringing dog in no time.
The first and most obvious thing you will need is a bell. Hang the bell, from a piece of string or ribbon, on the wall next to the door you plan to use to let your dog in and out. Hanging the bell from the wall, and not directly from the doorknob will help avoid bell ringing when the door is opened and closed, which can confuse the dog.
Each time you take the dog out, say "do you want to go outside." Then gently ring the bell and take your dog outside. After several days of doing this your puppy should start associating your cue words "do you want to go outside" and the ringing of the bell with the door opening.
The next step is to teach your dog to ring the bell. This step should not be done when you are rushing your dog out for a potty break. Show your dog the bell and then ring it. Your dog will probably touch the bell with his nose out of curiosity. If he does, praise him and give him a treat.

Or Call 877-738-7237 to Add a Pet to Your Current Policy
Next, you'll want to hold the bell in front of him and ask him to ring it. Let him nose the bell or touch it with his paw. Praise him each time he interacts with the bell. Your goal is for him to make the bell ring. Initially the ring may be very quiet, but be patient as this is a new skill for your dog. Make sure you encourage your dog and have fun with this learning process, giving him lots of praise!
The final step in the training process is to remind your dog to ring the bell whenever you take him outside. Take him to the door say "do you want to go outside" then ask him to ring the bell.
Tip: Keep your training sessions short and fun. This is a new skill for your dog, and it will take patience on your part to help your dog understand.
For more information about pet health and behavior visit Pets Best Insurance.