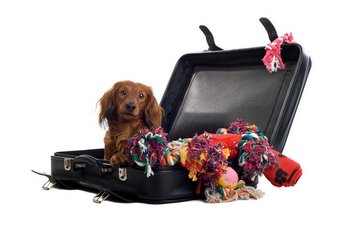 When traveling with pets, it is important to keep them safe during the trip. The job of keeping your pet safe doesn't end when you have reached your final destination. There are steps that you should take to ensure your pet stays safe while you are away from home.
Bring a cat carrier for your cat and portable dog crates for your dog when traveling. Not only do the carriers and crates offer a safe place for your pet, they offer a safe place for your pet when staying at a hotel or a family member's house. Using a crate or carrier for your pet at night and when you are not able to supervise them will keep them from getting into trouble and possibly injuring themselves. As a bonus, they offer a place for your pet to feel safe in his unfamiliar surroundings.
Make sure that your pet is wearing a collar and identification tags at all times. Having your pet micro-chipped is another added safety measure you can take to help make finding your pet easier if he is lost or stolen. The addition of an identification tag with the information of where you are staying is also helpful when traveling with pets.
Once you get to your destination it is a good idea to know where the local animal emergency room is and the number of a local vet. Ask your friends or family members that live in the area for the name of the vet they use. If you have pet insurace with Pets Best Insurance, knowing you have the option to take your pet to any veterinarian anywhere in the world can be comforting. In the case of an accidental injury or sudden illness pet insurance can help bring down the cost of pricey vet bills.
Keeping your pet safe during your travels will ensure that your trip is enjoyable for both you and your pet.