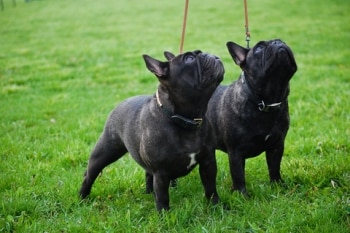 Dog walking and pet sitting services are becoming more prevalent these days. But how do they work and how do you find one? Professional Pet Sitters Week is in March, so in honor of that, we wanted to learn more about these services, so we had a Q&A with professional dog walker, Kelley Goad of BallWalkPark.com in Seattle.
How does using a dog walking / pet sitting service work?
I offer individual walks, park trips and puppy visits.
Individual walks: I offer 30 minute or 1 hour sessions.
Park trips: 60-90 minutes at the dog park with 6-8 other dogs. Pick up and drop off at home, round trip is 3-4 hours.
Puppy visits: 1-2 visits per day. 15-20 min visits with puppies, spaced 3-3.5 hours apart. Help reinforce potty training, basic manners, and socialization.
When a new client inquires, I ask where they live, dog age / breed / temperament, what service they need and how often. If it sounds like we will be a good fit, we meet in person and go over some paperwork, then set a schedule and get started!
Can you do "as needed" services or does it have to be on a regular schedule?
All of my clients are on a regular ongoing schedule, many smaller dog walking services operate this way, a bigger company with more employees can accommodate more as needed services.
How does a pet owner find a pet sitter/walker?
Ask your veterinarian, local pet stores, ask friends with pets, your neighbors or if you see a pet sitting/dog walking business (or their logo'd vehicle) Google them for reviews.
How to choose a pet sitter / dog walker
1. Make sure they provide service in your neighborhood, then make sure they offer the service you need, look up online reviews, and call a few that you like.
2. The most important thing is when you are talking to them make sure that you feel comfortable. This person is going to be in your home, with full responsibility of the life of your pet, and you might only meet them once before this happens. Trust your gut, look for that connection.
What qualities should you look for / what questions should you ask?
1. How long have they been doing this, how long do they plan to continue?
2. Are they licensed, bonded and insured?
3. Are they organized and easy to communicate with? Was it easy to contact them and set up a consultation?
4. Do they have a backup plan if they are sick/on vacation?
5. What dog breeds and ages do they have the most experience with? What types of dogs will your dog be with?
6. Do they seem to understand and connect with your pup?
Last thoughts / advice for someone looking for a pet sitter and/or dog walker?
The biggest compliment you can give your dog walker is your trust. If it's not there, keep looking.
Have you used a pet sitter or dog walker before? What other tips do you have for pet owners when looking for one? Share in the comments below or post to the Pets Best Insurance Facebook page.

Or Call 877-738-7237 to Add a Pet to Your Current Policy