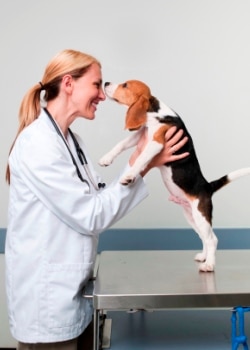 By Therese Pope, a freelance writer based in California.
As quality veterinary medicine becomes more advanced so does the rising cost of medical care for pets. Active pets, especially energetic puppies and kittens, are more likely to become injured; while illnesses and disease can affect pets of all ages. These unexpected trips to the vet can lead to expensive bills that take a big chunk out of your wallet.
As a result, proactive pet owners are now taking advantage of cost-saving pet insurance. According to the North American Pet Health Insurance Association's report, 1.4 million pets were insured in 2014. By enrolling in pet insurance, you have peace of mind that your pet's medical needs are well taken care of and you don't have to worry about costly vet bills.
What's Covered
Pet insurance companies offer a wide variety of plans to fit your pet's coverage needs as well as your budget. Before signing up for a plan, carefully read the fine print and make sure you know what's covered in your policy. Plan prices are based on a variety of factors including the coverage offered, as well as the pet's age, location, and animal breed.
Pet insurance plans offer coverage for accidents and illness. Examples of accidents include broken bones, foreign object ingestion, and lacerations; while examples of illnesses include cancer, allergies, diabetes, and arthritis. Some plans may include emergency care, surgery, hospitalization, and hereditary and congenital conditions.
A few companies offer routine care plans to cover annual wellness visits, vaccinations, teeth cleanings, and so on. However, routine care plans are technically not considered pet insurance.
Pre-Existing Conditions Are Not Covered
Pet health insurance policies do not cover pre-existing conditions. However, with pet insurance plans offered by Pets Best, if a condition that occurred before is curable then it may be eligible for coverage. If you aren't sure what conditions are covered, it's important to talk to a pet insurance representative and have them explain your policy in detail.
Waiting Periods
After enrolling in a plan, there is a standard waiting period that must pass before your pet's coverage begins. Conditions that occur during the waiting period won't be eligible for coverage. That's why whether you have a 7-week old kitten or you just adopted a senior dog, it's advised to enroll pets as soon as possible.
Pet insurance companies vary in waiting period lengths. Pets Best offers a waiting period of 3 days for accidents and 14 days for illnesses. Healthy Paws has waiting periods of 15 days for both accidents and illnesses, and Trupanion requires 30 day waiting period for illness coverage.
Before you can enroll your pet in a new policy, some companies require mandatory vet exams and need to review the pet's medical records. However, Pets Best does not require these to enroll.
The Claims Process
Pet health insurance is based on a reimbursement model. When your pets become injured or sick, take them to any licensed vet of your choice in the United States. At the time of the vet visit, you pay for the services. Then submit a claim to your pet insurance company and get reimbursed for the vet bill.
When choosing a pet health care insurance company, it's important to enroll with a company that pays you back on the actual veterinary bill you paid. Some companies reimburse for accidents and illnesses on a pre-determined amount, rather than paying on the actual veterinary charges (i.e. a benefit schedule or they use "usual, customary, and reasonable" language).
Since pet insurance reimburses customers, it also important to note how quickly the pet insurance company processes claims. Pets Best typically processes claims within 5 business days. Many pet insurance companies normally take 10-14 days to process claims.
As pet parents, your dogs and cats are an important part of your family and you want to keep your furry friends happy and healthy. With pet health insurance, you don't have to worry about the financial cost of the healthcare needs of your beloved pets, especially when an illness or accident suddenly happens.
 Protect Your Pet with Pet Insurance!
Get a Quick, Free Quote Online
or Call Pets Best at 877-738-7237
Sources:
Healthy Paws (healthypawspetinsurance.com/waiting-periods-and-veterinary-exam)
Trupanion (trupanion.com/pet-insurance/policy-overview)