By: Jacqueline White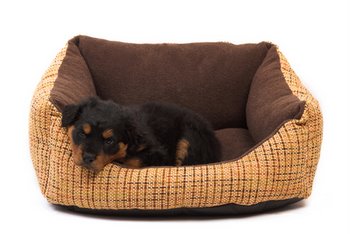 My family recently lost our wonderful Rottweiler, Maddox, to dog lymphoma. We were saddened by the sudden loss. He had been to the veterinarian's office in March for his annual check-up and was deemed to be in good health. Just three short months later we noticed the lymph nodes in his neck were swollen.
We took him into the vet the next day and our worst fears became a reality. The cancer had already spread to his other lymph nodes. We knew that his time here with us was going to be cut short. We tried to make him as comfortable as possible. Even though we provided him prompt dog health care, in just four short weeks his health had declined to the point where euthanasia was our only option.
After Maddox passed away, we knew that we wanted to get another Rottweiler. We searched online and found a puppy that had been an "owner surrender" at the local animal control office. With our three girls in tow, we headed to meet the puppy face-to-face. Although initially the little ball of fluff was very scared– my husband and I determined that we would adopt it.
We had our new puppy, Duke, checked out by our veterinarian the day we picked him up from animal control to ensure he received the best possible dog health care. Soon, however, he became very ill.
We took little Duke back to the veterinarian's office and he was diagnosed with parvo virus, which can be life threatening to dogs. The estimate, a whopping $600 for treatment was startling, but luckily for us the puppy came with a three-month membership of pet dog insurance.
The insurance ended up paying for most of Duke's treatment. If it wasn't for Duke having dog insurance I don't know what we would have done.
Having pet health insurance kept our family from suffering another loss. After our experience with both
Maddox and Duke, I would never own another pet without getting pet insurance—you never know when you might need it.
For more information about pet insurance visit www.petsbest.com.