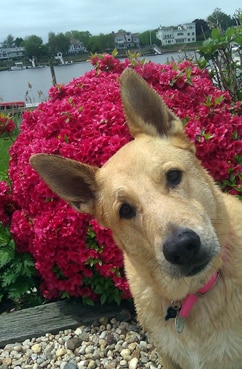 By: Kristie Sullens
Save-An-Angel Founder
For Pets Best Insurance
Did you know that for a lot less than you'd think, you can insure your fur baby for up to $14,000 of lymphoma coverage? It could be less than a few hundred dollars per year to protect your precious family member from this deadly disease and provide them a long and healthy life with qualified treatments. I cannot stress the importance of pet insurance enough.
Let me tell you a story about a beautiful Dingo dog named Angel. She wandered out of the woods and into our hearts when she was just a pup. My husband Johnny brought Angel in the house, where we already shared a home with our first "son" Romeo, a handsome Rottie mix. They had an instant connection and in that moment we promised to love her forever. Over the next five years we carved out a beautiful life together. Romeo and Angel were there for all our relocations, job changes, and growing pains. And of course, they were in our wedding. Romeo was the ring bearer and Angel was our flower girl. We could not have imagined a more meaningful experience. Life was perfect!
Two weeks after our wedding, my new husband Johnny discovered a lump on Angel's abdomen while giving her a belly rub. As you can imagine we were shocked, confused and very concerned. We called our vet to get the lump tested immediately and held our breath until our vet called to give us the worst news any pet parent could hear. "The tests came back and Angel tested positive for cancer. Angel has lymphoma and she needs to begin chemotherapy ASAP!"
Or Call 877-738-7237 to Add a Pet to Your Current Policy
We scheduled an appointment with the specialist who explained that because survival rates with chemotherapy alone are less than 4%, Angel only had between 6 months to 1 year to live. We were broken hearted, terrified and determined to do whatever it took to save Angel's life, so we asked our vet if there was a cure. After several hours of consulting with veterinarians from across the country, Angel's doctor came back with one option, one chance. Angel's only hope was to receive a Canine Bone Marrow Transplant at North Carolina State University. Angel's chances of survival instantly shot up to over 40% and the room swelled with relief. That is until we heard Angel's Specialist say, "The BMT costs $16,000 and you need to make a decision by next week." We had only 7 months to raise the money or risk losing Angel forever. One hundred percent of transplants are tested on dogs first, so they knew it would work on Angel.
At this point, we contacted our dog insurance provider. Angel was covered for the basics, but since we'd never been personally affected by cancer, an additional plan to cover the disease had never been purchased. Because preexisting conditions aren't covered by pet insurance, Angel was left completely vulnerable. Had there not been money for chemotherapy from our personal income, she would have died within 2 months.
What followed next was a whirlwind of fundraising, educating and visualizing. All that mattered was that Angel received the cure, because we couldn't live without her. We were able to raise the money in time, and Angel received the transplant in May 2010. Angel is still 100% cancer free without medication!
If you take anything away from this, please make a promise to your own pet to purchase an all inclusive pet insurance plan, like that from Pets Best Insurance, which would have covered the canine bone marrow transplant for Angel. Pets insurance plans can literally be the difference between your pets' life and death. If you're still not convinced, the following is another reason you need cat or dog insurance from Pets Best Insurance.
After Angel was cured, the business office at NC State confirmed that Pets Best Insurance covered $14,000 on a $16,000 BMT claim. That's amazing! For much less than $50 a month, pet insurance lets you rest easy knowing that if your dog does get diagnosed with lymphoma, they will have the opportunity to receive the only possible cure for this deadly disease.
We believe Angel's journey happened so that we as a community of people who love our pets like children, can learn how to better protect them. Please consider how you would feel if put in this position. One in three dogs are diagnosed with cancer each year. Now you know that the Pets Best Insurance Plans cover the canine bone marrow transplant. If only one dog is saved because of this knowledge, then Angel's journey has been well worth it. Please consider covering your pets if you haven't already, and please share it forward! Knowledge is power and being prepared could be the difference between life and death for your best friend.
For more information about the organization Angel inspired, visit http://www.save-an-angel.org/.