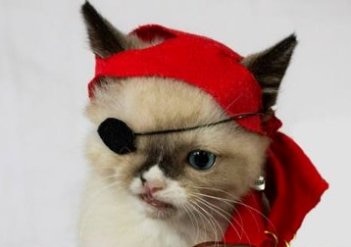 Have you met the latest cat internet sensation, Sir Stuffington?
According to the Multnomah County Animal Shelter (MultCoPets.org) Sir Stuffington, the pirate costume wearing adorable one-eyed kitten with an injured jaw, arrived at the Shelter along with two siblings on September 13th after being rescued off the street.
The shelter's website reports, "in addition to being filthy, covered with fleas, and suffering from an upper respiratory infection (URI), it was clear he had survived some sort of traumatic injury that caused a disfigured jaw and the loss of one eye. He also has a heart murmur and flea anemia. All three kittens have calicivirus, which is contagious to other cats." They continue, "Donations will allow us to offer Sir Stuffington the extra medical care he needs to grow into a happy, healthy cat. Sir Stuffington is not yet available for adoption. It will likely be two months or so, but we will let everyone know when he and his siblings become available."
Sir Stuffington has become quite the internet sensation! His foster mom made a Facebook page for him which has over 38,000 likes in just a few days! You can follow his progress and see more adorable photos of him at Facebook.com/Sir.Stuffington. To learn more, donate, foster and/or volunteer contact the Multnomah County Animal Shelter. Their website is MultCoPets.org and phone number is (503) 988-7387.
Photo from Facebook.com/Sir.Stuffington
Photo credit: Amy Who Photography