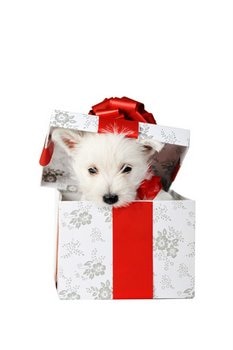 By: Dr. Jack Stephens
President and Founder
Pets Best Insurance
Having been a veterinarian and the founder of pet insurance in the US, I generally advise against giving a pet as a gift. Owning a pet is a commitment of up to 17 years for dogs and 20 for cats, and often the recipients decide they're not up for the job. In fact, many shelters report a surge of abandoned Christmas pets as early as January each year.
There are a host of factors to consider before purchasing a pet. Like: housing, feeding, schedules, training, exercise and veterinary care, just to name a few. Because too many pets become abandoned or are given up to shelters when people are not prepared to be pet owners, these issues should be addressed before getting a pet—not after.
One exception of when it's ok to give a pet as a gift is when the whole family is involved in the decision. When planning for a pet, it's important to consider a few things:
• First, determine if a pet is even right for your household.
• Second, determine what kind of pet is appropriate for your situation. Research your proposed pets' needs and match that with your expectations before you purchase or adopt. It's also a good idea to research cat and dog insurance so you can be financially prepared should your pet have any illnesses or accidents.
• Third, after the responsibilities for pet ownership have been extensively researched, determine who will be primarily responsible for the pets' needs.
Another exception can be a "trial run," to determine whether the pet is a good fit. For example, my wife and I often match a pet to a person and their needs. We provide the pet "on a trial basis" for the person to determine if they want the responsibilities of a pet and more importantly to prove to themselves our assertion that pets are good for our health and well being. We place the pet with the understanding that they must give the pet back to us if the situation does not work. This "trial run" approach is especially important for placing a companion pet with a senior citizen when there are concerns about their own health and ability to care for the pet.
An older neighbor of ours was having trouble with depression after the loss of her spouse. We provided her with one of our own pets to demonstrate the companionship value, with the expectation that we would find her a nice lap dog if her trial run went well. That was six years ago and Blue Baby is still living with her!

Or Call 877-738-7237 to Add a Pet to Your Current Policy
On another occasion we gave a very special Daschund (whose back legs were paralyzed from a slipped disc) to an acquaintance whose husband was in a wheelchair. Seeing how well that dog adapted to his circumstances was inspirational for that man. But alas, after five years they could no longer keep Schotzie and we took him back into our household. He is now 11-years-old and has been in his cart or "doggy wheelchair" for 9 years since we adopted him. He is a happy little guy and an inspiration as a therapy pet in both hospitals and at senior care facilities.
The ultimate point being, that giving a pet to someone does not diminish your responsibility. You must ensure that the pet is going to a good home, that they understand how to care for the pet in all aspects, and finally that if circumstances do not permit them to keep the pet, you take responsibility and either find a new good home, or welcome the pet as a member of your own family.
For more information about pet health or pet insurance, vist Pets Best Insurance.