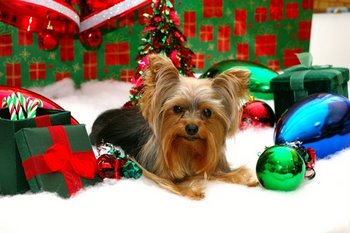 If you are getting a new pet this holiday season, be sure to give your family the gift of peace-of-mind by getting pet insurance.
Pet insurance is a great way to ensure that your pet is covered in the case of an accident or illness. Not only is pet insurance a great gift for the holidays, it makes a great gift any time of the year.
It doesn't matter if your new pet is pure bred or a mix, pet insurance makes sense. No dog is immune to accidents or illnesses. Pet health insurance is great to have when your new puppy decides to eat a sock and has an intestinal blockage that requires surgery. It's also handy to have when your new kitten jumps off the couch and breaks its leg. Pet insurance is there for you and your pet when you need it most.
Pet insurance companies, like Pets Best Insurance, let you choose the pet insurance plan that meets the needs of you and your pet. You choose the deductible that fits your budget. You can also choose how much coverage you want your pet to have. It's a customizable plan that covers what you need without breaking the bank.
Ease some of the stress that can come with owning a new pet by having them covered under a pet insurance plan. Call Pets Best Insurance today for a free quote at 866-440-2020 or visit them at www.petsbest.com.
*Please note: If you'd like to purchase a pet insurance plan as a gift, please make sure the pet's owner reads and completes the application. It may take away some of the surprise of gift-giving, but it's a legal requirement.