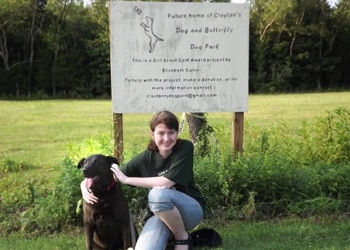 By: Elizabeth Culver, a Girl Scout whose furry siblings, Eagle and Phoenix, are protected by Pets Best.
Raven was my parents' dog. She was my furry, four-legged older sister, who, like many older sisters, did not listen to me. She was full of energy, hence her nickname "Raven Lunatic." When I was about 10, my parents decided it was time for my sister and me to have a dog of our own. We chose a lab mix from a local rescue, and named her Eagle.
One year later, our once lively Raven tragically developed cancer. My parents did everything that they could to help their first "daughter", and spent a fortune on treatments. Sadly, Raven did not make it. However, good did come from the experience.We learned a lot about health care and the need for pet health insurance for the furry members of our family. My mom signed Eagle up for pet insurance from Pets Best, which ended up being a huge blessing.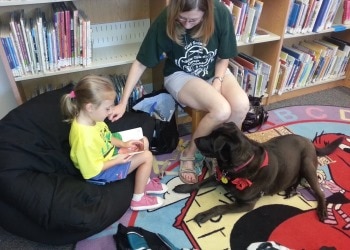 Eagle loved to visit the farm where my sister took horseback riding lessons. She loved to run with the dogs there, and chase guinea hens. I do not think Eagle was meant for life on a farm. She ended up tearing her ACL in one of her legs. She managed to tear the other ACL while running, before we could get the first one properly diagnosed. Eagle was completely lame. She required two surgeries in one year so she could be able to walk (and run) properly again. My family would not have been able to afford the surgeries if Eagle had not been covered by Pets Best. If she had not had pet insurance, we would have gotten her a doggie wheelchair, but she would have been lame for the rest of her life.
Eagle made a full recovery, and went on to become certified as a Therapy Dog and the mascot of my Girl Scout troop.  After the surgeries, Eagle needed some inspiration to get back to running.  We decided she needed a puppy, and we adopted Phoenix, a very energetic Border Collie mix to help keep Eagle in shape. Now, the two of them love to run around and play with other dogs.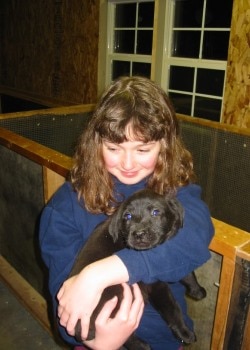 There are many dogs in my home town of Clayton, NJ, and they are allowed in almost all of the parks in town. The only drawback is that the dogs must remain on their leashes. Through research and experience, I know that dogs love to run, and they socialize much better off leash. My mom and I have always talked about building an off-leash dog park in Clayton, but up until recently, it has only been talk. When it came time to choose my Girl Scout Gold Award project, I decided take action. I proposed my idea to town council, and they were ecstatic about my idea! They awarded me 1.5 acres of land to build the dog park.
Finally, Eagle and Phoenix can have a place to run and play with their doggie friends! The dog owners of Clayton are also excited about the dog park. During our Clayton Day Festival, I set up a table to promote the dog park. So many people came up and talked to me about my project, a lot of them with their dogs. It was amazing to see how many people view their dogs as part of their family.
Pets Best has once again stepped in to help improve the quality of my dogs' lives, as well as the lives of all the dogs in my town. They are supporting my Dog Park Project by giving me a $500 matching donation.
For more information on my project and how you can help, please visit the dog park website www.claytondogparknj.org and follow me on Facebook!
Photo at top: Elizabeth and her dog Eagle at the future dog park site in Clayton, New Jersey.
Photo in middle: Eagle performs her duties as a therapy dog and listens attentively as a little girl reads aloud to her.
Photo at bottom: Elizabeth with Eagle as a puppy.
Protect Your Pup with Pet Insurance

Get a Quick, Free Quote Online
or Call Pets Best at 877-738-7237