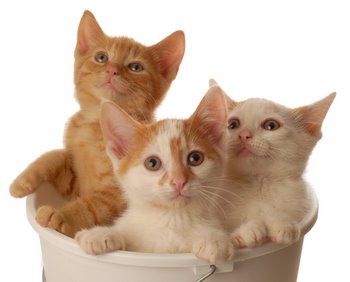 By: Dr. Jane Matheys
Associate Veterinarian
The Cat Doctor Veterinary Hospital
For Pets Best Insurance
Along with warmer temperatures and lovely flowers, spring also brings kitten season! Kitten seasons are periods of time during the year when cats have kittens.
The mating season in cats is determined by a number of factors, including warmer weather and the length of daylight. The natural mating season of cats in the Northern hemisphere is from March to September. Although cats can go into heat and produce a litter at any time of the year, typical kitten season begins in spring time when the days start to become longer.

Or Call 877-738-7237 to Add a Pet to Your Current Policy
The thought of all those cute, adorable kittens may be appealing, but the truth is that kitten season can be devastating for animal shelters across the country. Every year, between the months of April and November, shelters experience a flood of homeless cats and newborn kittens in need of care and fostering. Most animal shelters operate on very limited budgets, and are often forced to make the difficult decision to euthanize unwanted, abandoned and stray or feral kittens. But you can help.
First and foremost, ensure that your own cats are spayed and neutered. It's also a good idea to find the best pet insurance for your cat early on, in case of future accidents and illnesses. Some pet insurance companies even offer routine care options that can help pay for a portion of spaying and neutering.
According to Carl Bialik, the Wall Street Journal's "Numbers Guy", a single unspayed female cat will produce somewhere between a low of 98 and a high of 5,000 cats in seven years. his is in contrast to the often quoted but flawed statistic of "420,000 offspring in 5 years". Still, it's a whole lot of unwanted cats that may suffer needlessly.
Another way to make a life-saving difference is to become a foster parent for a litter of homeless kittens. Shelters and rescue organizations don't have the space or resources to care for the kittens until they are old enough to be put up for adoption, so they rely on the assistance of volunteer foster parents to provide temporary care for kittens in their own homes. The more kittens that get into foster homes, the more spaces there are in the shelters. By offering your home to kittens in need, you truly are saving lives.
If you're willing to foster kittens, it's usually best to start out by volunteering with a shelter or rescue group since they can provide expert advice and support. Contact your local animal shelter, rescue group or feral cat organization to sign up as a foster parent. Each organization has different guidelines for foster parents, and once you begin, they will provide you with detailed instructions.
As a foster parent, you will be responsible for feeding, cleaning, socializing and cuddling your kittens. In some cases, you may need to bottle feed, give medications or take kittens to the veterinarian. Some rescue organizations supply all the necessities like cat food and litter, while others require the foster parents to supply these items. Depending on how old the kittens are, you'll be caring for them for one to eight weeks, so make sure you understand all the costs involved.
Fostering kittens can be a lot of hard work in some situations. Bottle feeders (or bottle babies) are kittens under four weeks old who need to be bottle fed every 2-6 hours depending on how old they are. This can lead to some sleepless nights! Since these kittens don't have a mom, you will also have to help them to go to the bathroom, keep them clean, wean them, and train them to use a litterbox. A mom cat with kittens is one of the easiest fostering situations since mom does most of the work. Self-feeding kittens from 4-8 weeks old can already eat on their own and use the litterbox, but need TLC until they are old enough to be adopted. Feral kittens have grown up with little or no human contact, and will need more intensive socialization to help them become comfortable around people. You can find a fostering option that fits your needs and abilities, and there are numerous resources to help educate you about the proper care of kittens.
If you have a little extra space in your home, a bit of free time, and some love to share, consider becoming a kitten foster parent. You are sure to find that fostering is one of the most rewarding volunteer experiences there is. You'll be amazed at how much you learn and how gratifying it is to see the kittens grow and develop under your care. Best of all, you'll be saving lives and helping to ensure that all kittens get the loving homes they deserve.