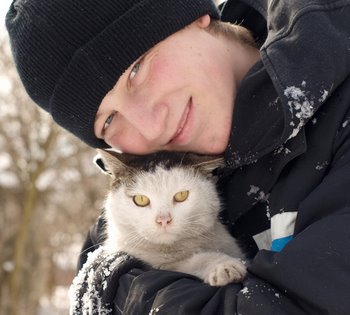 Not long after moving into my first apartment, I decided that I wanted to adopt a cat. I had never had a cat before, but I believed the hype. "Cats are easy," I heard.
They're independent and make great companion pets. So I scoured Chicago cat rescue shelters until someone stole my heart: a brown tabby that bonked his head against the glass every time I looked at him.
Charlie was the sweetest little 11 month old cat when I brought him home. He cuddled with me all night long, and quietly sat beside me or followed me around the apartment all day. Aside from wishing I'd purchased pet insurace when I took him to his first vet appointment, I learned that he had an infection from his neuter surgery and he was put on antibiotics. After he began feeling better, I saw the real Charlie: he was a devil cat.
I was not ready for the surprise ankle ambushes or the attacks on my head from behind the couch. Any attempt to correct him or remove him from a situation resulted in hisses and bloody scratches. Nobody liked Charlie, not even me. But he was my cat, and I loved him.
At the age of three, he calmed down a lot. Not completely, but a lot. Over the years, we learned to live with each other. He is now the love of my life.
Still, looking back, had I been more prepared with knowledge of cat personality, I would have asked more questions about the cats I was looking at at the shelters. Now I know that some cats are independent and some stick to you like glue. Some are inquisitive and some are laid back. Some are cuddly and some are aloof. But all are worthy of a wonderful home and have the potential to fit perfectly with the right family.
Shelter employees and volunteers get to know the resident cats so well; they are a wealth of knowledge. Ask them questions about the cat's personalities, what kinds of supplies you will need, and what's the best pet insurance when you go to adopt. And remember, not all cats are on their best behavior while in a cage, so don't believe all you see. Tell the shelter what you're looking for, and let them guide you to possible matches.