By: Chryssa Rich
Pets Best Insurance Marketing Associate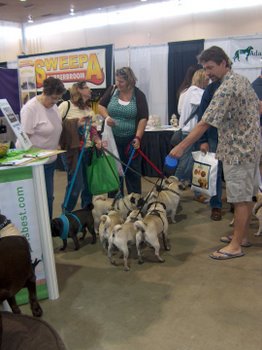 Where can you order cable TV, buy a rubber broom, take your picture with a tortoise, adopt a puppy and enjoy a mango Italian ice? That would be the Family Fun Pet Expo, held in Boise, Idaho last weekend.
For the team at Pets Best Insurance, it was the first time we'd participated in this event. During set-up we had a good laugh after noticing we'd been placed across the aisle from a pet crematorium company. We thought that might urge people to consider pet insurance more carefully!
Chilly weekend weather pushed attendance to more than 6,000, and each visitor received a goodie bag upon entrance as well as all kinds of free samples, treats and chances to win great prizes. By the end of the weekend, we'd had the opportunity to educate hundreds, maybe even thousands, of pet owners on the benefits of pet insurance, and everyone loved the local gift certificates we gave away.
In addition to the dozens of super cute animals who strolled by our booth, we enjoyed checking out the adorable baby goats, donkeys and chickens in the petting zoo, as well as snakes, lizards and other reptiles at another booth. A local radio station held a cutest pet contest, complete with Top 40 music and a dog show-type arena where they could strut their fluffy stuff.
Some of the funnier sights included a roly-poly gang of Pugs, a Chihuahua in a hot pink bikini, and a little kid eyeing our bowl of dog treats with his mouth watering. I do have to wonder how many children unwittingly ate pet food over the two-day-span – some of the gourmet dog and cat snacks looked downright delicious (and I'm a vegetarian).
Most cities have pet expos at least once a year, so check your local events calendars and try to visit one this summer. Even if you're not looking to adopt a new furry friend, you'll find lots of entertainment and freebies for the pets you already have.
After a weekend of pet expo fun, my family decided to add another to their pack. My sister-in-law's parents adopted an adorable Black Lab/Terrier mix, Birdie, who has a cute scruffy beard and webbed toes. It took them years to heal after the loss of their last dog, but the weekend event prompted them to become dog owners once again.