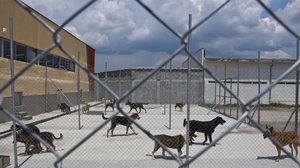 Susan Babbitt is doing everything she can to help homeless animals—but she can't do it alone.
Babbitt, who founded the nonprofit organization Friends of the Collinsville Animal Shelter has seen a steady decline in donations since the economy has taken a downward spiral.
"People who've been able to give me several thousand (dollars) can give me $500 now," she told Tulsa World.
Babbitt told the news provider that when people lose their homes and jobs, their pets often suffer repercussions.
"They can't afford to take care of their dogs and cats," she told the news source. "They are bringing them to us as a surrender. At a certain point, you only have a certain amount of money and you can only do so much."
Babbitt told Tulsa World that even people who have had their animals for years have brought their pets to her.
"In some places, the dogs they are leaving are just beautiful, registered, pedigreed dogs that they cannot afford to take care of anymore, or they are having to go to an apartment where they aren't allowed to have a dog," she told the news provider.
Babbitt told the news source that her organization has saved more than 400 pets.
"It's just unbelievably intense with pets right now. I'm just pedaling as fast as I can to bring in different money."
Jamie Suarez, the president and founder of Oklahoma Alliance for Animals told the news provider that shelters and rescue groups are "inundated with animals right now because of the economic climate."
"It's everybody and they are starting to feel it," Suarez told Tulsa World of the economy. "Probably a lot of groups are starting to get discouraged. I hope they don't."
According to Business Week, Americans spent around $41 billion a year on their pets in 2007. Now, most families who are feeling the effects of the economy are sometimes unable to even feed them.
"It's real difficult for them right now," Suarez told the news provider. "It's the times. I hear it from everybody I talk to."