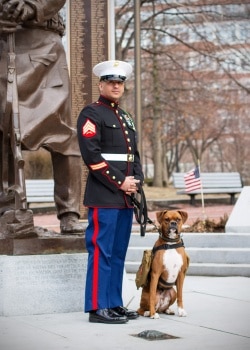 BOISE, Idaho – In an effort to support members of the U.S. military and their pets, Pets Best Insurance Services, LLC (Pets Best), a leading U.S. pet insurance agency, and nonprofit Dogs on Deployment announced today that Pets Best will match up to $1,000 in donations made to Dogs on Deployment through Memorial Day weekend. Dogs on Deployment is a nationwide nonprofit that connects military service members with volunteers to board their pets for free when they are deployed.
Pets Best welcomes people across the U.S. to visit www.petsbest.com/blog/dod-donation-match and donate to Dogs on Deployment. Pets Best also encourages people to volunteer as pet foster parents through Dogs on Deployment to support the organization's mission.
Founded in June 2011, Dogs on Deployment provides an online network at www.dogsondeployment.org where military pet owners can find volunteers to board their pets during service commitments. In addition, the organization offers financial grants for emergency pet care and advocates for military pet owners' rights and education.
"Pets often serve as trusted companions for the brave men and women of the U.S. military, but in worst-case scenarios, these loyal pets are relinquished to shelters because their owners are deployed to serve our country for months and years at a time. Pets Best is passionate about ensuring these pets stay safe in a loving environment while their owners are away from home," said Dr. Jack Stephens, president and founder of Pets Best. "Dogs on Deployment provides a valuable service for members of the armed forces and their beloved animals. As a pet-focused organization, we hope to promote increased contributions to the nonprofit's worthy cause."
As part of the effort to raise funds for Dogs on Deployment, Pets Best is also offering a special promotion for pet owners across the country. People can visit www.petsbest.com/dogsond for a 5 percent discount on pet insurance plans offered by Pets Best. Dogs on Deployment will receive an additional $40 donation for policy applications submitted through this link.
The donations from Pets Best will allow the nonprofit to extend its outreach and assistance programs, said Alisa Johnson, president of Dogs on Deployment. The nonprofit also recently announced its mascot and military pet of the year, a boxer named Midas, is insured with Pets Best. Midas is owned by a Marine Corps veteran and serves as a certified service dog for people with post-traumatic stress.
"Pet insurance can be extremely helpful for members of the military. When service members are deployed and their pets are in the care of our Dogs on Deployment volunteers, those members know their pets will often be covered financially for veterinary care if anything happens," Johnson said. "We are excited to have the support of a company like Pets Best that believes in our mission."
About Pets Best Insurance Services, LLC
Dr. Jack L. Stephens, president of Pets Best, founded pet insurance in the U.S. in 1981 with a mission to end euthanasia when pet owners couldn't afford veterinary treatment. Dr. Stephens went on to present the first U.S. pet insurance policy to famous television dog Lassie. Pets Best provides coverage for dogs and cats and is the only veterinarian founded and operated pet insurance agency in the United States. Dr. Stephens leads the Pets Best team with his passion for quality pet care and his expert veterinary knowledge. He is always available to answer questions regarding veterinarian medicine, pet health and pet insurance. The Pets Best team is a group of pet lovers who strive to deliver quality customer service and value. Visit www.petsbest.com for more information.
Pet insurance coverage offered and administered by Pets Best Insurance Services, LLC is underwritten by Independence American Insurance Company, a Delaware insurance company. Independence American Insurance Company is a member of The IHC Group, an organization of insurance carriers and marketing and administrative affiliates that has been providing life, health, disability, medical stop-loss and specialty insurance solutions to groups and individuals for over 30 years. For information on The IHC Group, visit: www.ihcgroup.com. Additional insurance services administered by Pets Best Insurance Services, LLC are underwritten by Prime Insurance Company. Some existing business is underwritten by Aetna Insurance Company of Connecticut. Each insurer has sole financial responsibility for its own products.
Pets Best is a proud member of the North America Pet Health Insurance Association (NAPHIA).
Military members nationwide confront a multitude of problems during their careers, and the last thing they need to worry about is their pet's care during their service commitments. Dogs On Deployment is a 501(c)(3) national nonprofit that provides an online network for service members to search for volunteers who are willing to board their pets during their owner's service commitments. Dogs on Deployment promotes responsible, life-long pet ownership by military pet owners by advocating for military pet owner rights, providing educational resources and granting financial assistance for military pet owners during times of emergency. Founded by military members, for military members, Dogs on Deployment aims to provide peace of mind for service members regarding their pet's care.
###