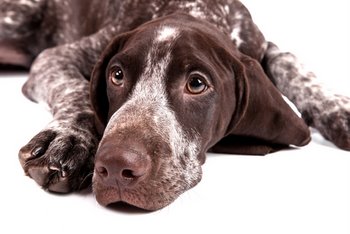 By: Dr. Fiona Caldwell
Idaho Veterinary Hospital
For Pets Best Insurance
Duke is a sweet-as-pie male German Shorthaired Pointer. In his nine years he has been his owner's faithful hunting companion, flushing out birds and doing his breed-trademark pointing. He had always been healthy until this last fall, when he seemed to catch a cold and had a snotty nose with mucus discharge and sneezing. Concerned about his depleting pet health, his owners made an appointment with the veterinarian to determine what was wrong.
Dogs don't typically get sinusitis, or infection of the sinus cavity, without an underlying condition. Usually they get a sinus infection due to some other problem, such as snorting up a grass seed, for example. Duke was an active outside dog; it was possible he could have gotten something stuck up one nostril. In fact, the list of possible underlying causes was relatively short: allergies, foreign body (seed or other plant material most likely), mites, fungal infection, bacterial infection, tooth root infection, and lastly, cancer had to be included.
We decided to tackle the list systematically and treated him for allergies and nasal mites first. When he didn't respond, we tested for fungal infection by looking for antibodies in his blood to the most common nasal fungi, and treated for bacterial infection. In the meantime Duke seemed happy despite his snotty nose and sneezing.
The fungal test was negative. Duke partially responded to antibiotics, which made him go from having discharge from both nostrils, to only the right nostril. The only causes left on his list of differentials were foreign body, tooth root infection and cancer. Duke's owners agreed it was time to perform a rhinoscopy and skull and nose radiographs. Because procedures like these can be expensive, it's always a good idea to have a pet health insurance policy in place. Dog insurance can help make the best pet health care more affordable.
A rhinoscopy is a procedure where a very small camera on the end of a rigid scope is used to examine inside of small cavities, like nostrils, while the patient is asleep. We were hoping to find a grass seed or some other foreign body there, as this would be quite treatable. There was none. Duke's X-rays showed no tooth root infections that could be communicating with the sinus cavity and no other boney changes in the skull.
Unfortunately, this left cancer as the sole remaining possible reason for Duke's chronic nasal discharge. His owners loved him and were determined to find the answer, and agreed to advanced imaging, and ordered an MRI of his nose and head. An MRI uses advanced technology to provide a much more detailed image of body tissues, allowing the clinician to visualize soft tissue as well as bone. It also will take the images in 'slices' allowing the clinician to visualize small sections of the body part, from the tip of Duke's nose, through the back of his head.
Much to all of our dismay, Duke's MRI revealed unequivocally he had a nasal tumor in his right nostril. The most common neoplastic condition in the nose of the dog is an adenocarcinoma. Adenocarcinoma is a malignant neoplasm that can occur in a variety of different tissues. Nasal adenocarcinomas generally carry a poor prognosis without treatment. Duke wouldn't have long if the owners decided not to go forward with the recommended treatment.
Radiation therapy is the treatment of choice for intranasal carcinomas. About 50% of treated dogs will live longer than 12 to 18 months with a good quality of life. Most dogs tolerate radiation very well, with minimal side effects. Side effects that can occur are usually mild superficial burns secondary to radiation on the skin.

Or Call 877-738-7237 to Add a Pet to Your Current Policy
Duke's pet health condition isn't uncommon. Cancer occurs in about 50% of dogs and a third of cats. Veterinary oncology is becoming more and more advanced, keeping up with human medicine, in terms of treating cancer. The biggest road block veterinarians often face, is the acceptance of owners to be financially responsible for costly cancer treatment, and the stigma that radiation and chemotherapy will somehow be cruel. Animals very rarely have the serious side effects of chemotherapy like people do; they don't lose their hair or their appetites. In fact, owners often can't tell anything has changed! As more people recognize the value of pet health insurance, hopefully this will allow more people access to lifesaving treatment options for cancer.
Duke's owners were put in a difficult position. They didn't have dog insurance for Duke and they had already spent a significant amount of money diagnosing him. Radiation therapy would be an additional $4,000.
Throughout the whole ordeal Duke has been a stellar patient. He never complains, is always happy to be examined, doesn't mind being poked and prodded. It is unclear how Duke will do long term; his owners are still on the fence about pursuing additional treatment. It is clear Duke is a special part of his family, and he'll love them either way.