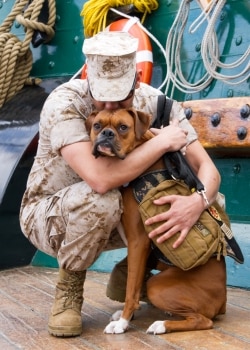 Together with Dogs on Deployment, Pets Best is pleased to announce that the 2014 Dogs on Deployment mascot, Midas, is now protected with pet insurance from Pets Best Insurance Services, a Dogs on Deployment "Silver Star" Sponsor.
Dogs on Deployment is a non-profit organization providing a central network for military members and volunteers willing to board their pets, to connect. Their mission is to give military members peace of mind concerning their pets during deployment or other service commitments by providing them with the ability to find people and resources available to help them.
Midas, the 2014 Military Pet of the Year and new Mascot for Dogs on Deployment, is owned by a United States Marine Corps veteran and is a Post-Traumatic Stress (PTS) Service Dog. Midas' owner, Sgt. Valdez is a returned wounded Marine who served four tours in Iraq and credits his life to Midas. Midas has also touched the lives of many other military members returning as civilians and coping with PTS.
Leaving a pet when deployed is always difficult for military members. They're left wondering how their pets will be cared for while they're away and unexpected veterinary bills can add up quickly. Pet insurance helps make veterinary care more affordable and helps provide peace of mind to deployed military members and the families fostering their pets.
You can help support our troops by making a donation to Dogs on Deployment or signing up to foster a deployed pet. To learn more about Dogs on Deployment, please visit www.dogsondeployment.org.
Pets Best is proud to offer a 5% discount to friends of Dogs on Deployment and an additional $40 donation to Dogs on Deployment for each completed pet insurance application through the Dogs on Deployment page on the Pets Best website (or use the referral code DOGSOND).
 Get a Quick, Free Quote Online

 or Call Pets Best at 877-738-7237