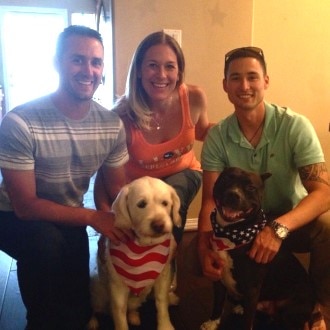 Five months. It's the duration of nearly an entire school semester and about two times as long as Columbus' voyage to America. It's also the length of another seaboard adventure — it's how long Navy Lieutenant James McCullen spent away from his San Diego home during his most recent deployment.
Additionally, if you were to ask McCullen's six-year-old pit bull Axle, he might tell you those five months were the perfect amount of time to make a few new human and animal friends — thanks to one unique non-profit that matches pets of deployed servicemen and women with qualified boarders.
So what makes this possible? Imagine an online network that connects pet-owning military members with volunteers willing to board their animals while they honor their service commitments. Dogs on Deployment is a national organization which provides exactly that.
After creating an account, a military member submits an application to Dogs on Deployment. Once their application is approved, the military member is then able to search for and connect with potential boarders who may be able to care for their pet during deployment. A meet-and-greet is then scheduled, and if the arrangement is a good fit, a boarding contract is signed. Then, when it comes time for deployment, a military member can rest easy, knowing their pet is in good hands. The entire process ensures a seamless process that eliminates stress and anxiety — for pets and their owners.
"While deployed I was able to keep my mind at ease knowing Axle was being cared for," says McCullen, who has used Dogs on Deployment several times. "It allowed me to focus on the mission we were set out there to do."
But that's not to say being separated from one's pet isn't a challenge. "It was tough," he adds. "I thought of him all the time." But Axle's boarders Carla Schultes and her husband Jon Mead often sent care packages to McCullen while he was away, which kept him in good spirits. "On those really rough days I would get a picture or video update via email from them and see how happy he was. That definitely made things easier. They even sent me care packages addressed from Axle — [which were] absolutely adorable."
When McCullen returned home from his first deployment, he worried that Axle might not remember him. But the reunion — captured by a local news crew — was one filled with smiles and tail wags. And the boarding experience was so successful that McCullen decided to become a boarder himself. "Plain and simple, I wanted to give back," he says. "Selfishly though, Axle needed a friend to play with, too."
Recently, McCullen began boarding another service member's dog, Champ, through Dogs on Deployment. While the arrangement will only last two weeks, he believes the experience has already made a positive impact on Axle.
"He looks and acts younger," says McCullen. "They could spend hours at the dog park together, the happiest dogs in the world — [though] Champ is still learning that we can't poop in the middle of the crosswalk," he jokes. And having a second dog to share the bed has had its interesting moments. "The first night, on multiple occasions Champ jumped into my bed straddled my body and got about an inch away from my face. I thought he was making sure i was alive," says McCullen. "Needless to say I didn't get much sleep."
As lighthearted and comical as the situation might seem, McCullen knows that by boarding another military member's dog, he is making a difference in both the lives of other deployed servicemen and the lives of their pets. "For me I'm just happy I can help and spread the word [about] this amazing tool for service members."
For McCullen and others, Dogs on Deployment provides peace of mind knowing one's pet is safe, well-loved, and having their own exciting adventures back at home. "It has been a blessing," he says. "I've meet the kindest people in the world and become good friends with them, too. They feel like family to us, our west coast family."