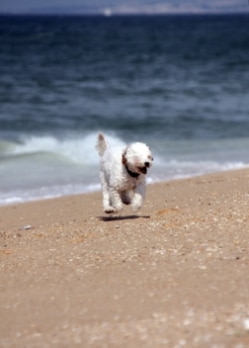 Pets Best Insurance releases list of unusual and expensive summertime claims
BOISE, Idaho – Pets Best Insurance, a leading nationwide pet insurance agency, has released its annual list of the top five bizarre and expensive insurance claims for the summer season. Since opening its doors in 2005, the Boise-based insurance company has experienced a steady stream of unusual summertime claims.
"Pets will always be curious and adventurous, and the summer months pose many risks for accidents, especially when families include their pets in vacations, yard work and outdoor activities," said Dr. Jack Stephens, founder and president of Pets Best Insurance. "When preparing for vacations and projects, please don't forget to take precautions for your four-legged family members."
*Some of the more unusual summertime pet health insurance claims the agency has received include:
Throwing in the Towel
Tango, a German shorthaired pointer in Missouri with a penchant for gobbling household objects, chose to make a beach towel a summertime appetizer. The meal didn't settle well.  After the dog threw up parts of the towel, the remaining portion had to be surgically removed, to the tune of $2,063. Fortunately, Pets Best Insurance reimbursed $1,650 of the veterinary bill.
Two Holes in One
There's no par for this course. While his owners were away, a Labrador retriever in California named Copper passed the time by scarfing down not one, but two golf balls. Both had to be surgically removed, costing $3,874, of which Pets Best reimbursed the pet owners 80 percent.
Snacking on Fertilizer
Fertilizer is good for the yard, but not the stomach. When a Weimaraner named Max ingested some fertilizer, he had to be closely monitored and treated with intravenous fluids. Pets Best reimbursed $1,133 of the $1,618 veterinary bill.
"Pet owners should always keep an eye on their pets when yard chemicals and fertilizers are being used," said Dr. Stephens. "Pets can become very ill from eating fertilizer, and they often ingest it straight from the bag or by licking it off their paws. It might not be the first issue pet owners think about, but consuming fertilizer can lead to serious health issues for animals."
That's the Pits
Who would think nectarine pits could cause so much trouble? When Bailey, a Labrador retriever, devoured some nectarine pits, his dessert resulted in two expensive trips to the vet. The first cost $517, with Pets Best reimbursing $414. The second bill ran up to $3,322, of which Pets Best reimbursed $2,657.
Bummer Beach Party
Zoie, an energetic Maltese, was living it up during a trip to the beach … until she swallowed some sand. When that followed with loss of appetite and vomiting, she ended up at the vet's office twice for close monitoring and treatment with intravenous fluids. Her total for both vet bills was $1,991, with Pets Best reimbursing $1,394.
For information about pet insurance plans offered by Pets Best Insurance, please visit www.petsbest.com.
*Different deductible amounts and reimbursement percentages may apply based on the policy options selected and available in the insured's state. The claim examples illustrate conditions that were determined not to be pre-existing for the animal insured. Claim administration is subject to all terms, conditions, limitations and exclusions in the policy.
About Pets Best Insurance
Dr. Jack L. Stephens, president of Pets Best Insurance, founded pet insurance in the U.S. in 1981 with a mission to end euthanasia when pet owners couldn't afford veterinary treatment. Dr. Stephens went on to present the first U.S. pet insurance policy to famous television dog Lassie. Pets Best Insurance provides coverage for dogs and cats and is the only veterinarian founded and operated pet insurance company in the United States. Dr. Stephens leads the Pets Best Insurance team with his passion for quality pet care and his expert veterinary knowledge. He is always available to answer questions regarding veterinarian medicine, pet health and pet insurance. The Pets Best Insurance team is a group of pet lovers who strive to deliver quality customer service and value. Visit www.petsbest.com for more information.
Pet insurance plans offered and administered by Pets Best Insurance are underwritten by Independence American Insurance Company, a Delaware Insurance company. Independence American Insurance Company is a member of The IHC Group, an insurance organization composed of Independence Holding Company, a public company traded on the New York Stock Exchange, and its operating subsidiaries. The IHC Group has been providing life, health and stop loss insurance solutions for nearly 30 years. For information on The IHC Group, visit: www.ihcgroup.com. In states in which Independence American Insurance Company's new policy form has not yet received regulatory approval, Aetna Insurance Company of Connecticut will underwrite policies. Each insurer has sole financial responsibility for its own products. To determine the underwriter in your state, please call Pets Best at 1-866-929-3807.
Pets Best Insurance is a proud member of the North America Pet Health Insurance Association (NAPHIA).
###