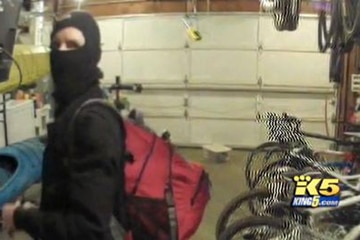 By Chryssa Rich, Pets Best Marketing Programs Associate
Bellevue, Washington couple Melissa Hasley and her husband recently installed a home surveillance system to keep tabs on their dogs while away from the house. They chose an inexpensive setup by Dropcam, which lets users watch the recorded videos right on their smartphones.
Hasley told King 5 News in Seattle, "Everybody always gave me a hard time that I have web cams to look at my dogs all day." But while vacationing in Sun Valley, Idaho, the move paid off big time for Hasley. One morning at 5:30, she opened her Dropcam app to see what her dogs were doing. But instead of snoozing pups, she found a masked man rummaging through her garage.
"It kinda took me a minute to go, is this really for real?" she explained. Because the video was transmitted in real-time, she was able to alert police who startled the burglar upon arrival, causing him to drop his loot and flee out a back door.
Hasley turned over the footage to authorities and shared her experience on social media, encouraging friends to get systems of their own. One neighbor did, and a few days later, also caught a burglar in the act.
She has a message for thieves in her area: "Don't come back, you're being recorded," she told King 5 News. "Not only can I see what my dogs are doing when they're on the furniture and shouldn't be, but I can catch a guy in the act."
Burglars who steal or destroy the cameras to get rid of evidence aren't in the clear, because video footage is stored online and can't be affected by damaging the camera itself.
Do you use doggie cams or nanny cams? In the comments below, tell us about unexpected things you've seen while away from home!

Or call Pets Best at 877-738-7237