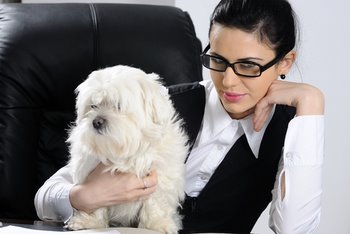 A pet education organization is doing everything it can this week to raise awareness of the benefits and the need for dog rescue.
According to Tonic.com's webpage, June 25 is the 12th national "Take Your Dog to Work Day," initially launched by Pet Sitters International to celebrate owners and their dogs.
Pet Sitters International President Patti Moran told the source that Take Your Dog to Work Day is meant to be a reminder of all the things pets give back to their owners, and to promote dog rescue.
"People love their dogs and pets enrich our lives in so many ways," Moran told the news provider, adding that taking your dog to work just might inspire co-workers to rescue a dog of their own.
According to the source, people's health, and pet health both benefit from interacting with one another.
The provider reports, "scientists have found… that dogs lower blood pressure [and] decrease cholesterol" in their human companions, as well as increase the likelihood of survival, and expedite healing in their owners following a serious illness.
The provider also explained that the number of dog owners has increased and continues to climb.
"If you have a dog, then you're in good company… because more than 62 percent of US households now own one or more pets," the source reported.
According to the TakeYourDog homepage, June 25 is the day "businesses, animal shelters and pet-care professionals from around the world will work together to better the lives of shelter dogs everywhere."
The organization's website states that businesses that open their doors to pets on this day, will help promote pet adoption and ultimately help support homeless animals in the community by raising awareness.
Moran thinks the simple act of bringing your pet to work on June 25, can be life-changing for homeless animals.
"Taking your dog to work for one day can change the lives of shelter dogs forever," Moran said in a promotional video for the organization.