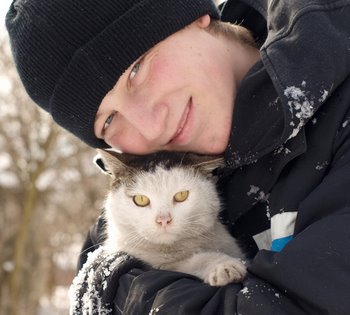 Although cat health care is best protected if kept indoors during the winter, some cats still want to spend some time in the great outdoors during cold months.
For cats that demand chilly outdoor adventures, protection from the cold is still a necessity. Should a cat owner need to leave home earlier than expected, a warm shelter designed for cats will provide safety and possibly keep cats away from dangerous sources of heat such as under car hoods. Providing safety for cats can ensure that cat insurance policies won't have to be used due to an accidental emergency.
An outdoor cat shelter can be inexpensive and is actually a simple do-it-yourself project. Plastic storage bins, straw, and some waterproof tape can easily be fashioned together to create a warm and cozy shelter from wind, rain, and snow.
The Urban Cat League, a non-profit corporation of volunteer cat lovers who provide care and protection to street cats in New York City, published easy instructions on their website to build a secure and cozy cat shelter.
In addition to shelter, heated water bowls should be left outside—hydration is key to pet health. According to Rachel Kristiansen of the Second Chance Sheridan Cat Rescue in Wyoming, "Cats will not eat snow; they do not recognize it as frozen water. A cat can easily die of thirst even though they are surrounded by snow and ice."