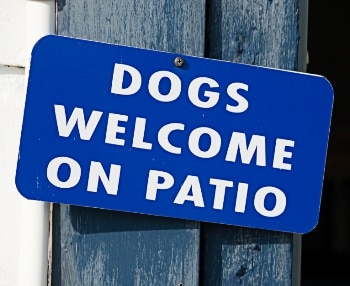 By Arden Moore, a certified dog and cat behaviorist with the International Association of Animal Behavior Consultants. Arden is an author, radio host, and writer for Pets Best, a dog insuranceand cat insurance agency.
Look closely under the tables at outdoor eateries – perhaps, even seated on chairs – and you will discover a fast-growing segment of cuisine clientele – dogs. Tapping into America's love of pets, some savvy restaurant owners with outdoor patios are catering to canines to drum up business and boost their bottom line.
To ensure that the number of pet-welcoming eateries steadily increases, here are 10 etiquette tips for you to heed the next time you leash your dog and head to the nearest pet-welcoming café of bistro:
1. Test your dog's obedience-heeding commands at home and on walks. Your dog should be able to ace the "sit," "stay," and "leave it" commands.
2. Exercise your dog before dining out. A tired dog is less apt to be rambunctious and more apt to want to snooze under your table while you enjoy your meal.
3. Give your dog ample time to take care of his bathroom needs before you head to a restaurant. Just in case: bring extra poop disposable bags so your dog doesn't create a "stink" at the restaurant.
4. Come prepared. Bring a portable water bowl and perhaps a bag of healthy doggy treats.
5. Play it low key. Don't make a big fuss about your dog joining you at an eatery. Tether your dog's leash to your chair.
6. Reel in that leash. Keep your dog on a short rein – about 4 feet. Do not let your dog, even those itty-bitty cute ones, wander into tables occupied by other patrons.
7. Be prepared to request a doggy bag to go if your dog acts up by barking, lunging at other dogs or insisting on sniffing the lower extremities of other patrons.
8. Set your dog up for success by selecting times to test his dining manners at non-peak serving times.
9. Be candid with yourself. If you know your dog can not bring his A-level manners to the restaurant, then keep him at home.
10. Refrain from letting your dog perch on your lap – or worse – lap up leftovers from your plate. Keep those habits inside the privacy of your own home so other patrons can enjoy their meals.
Advice to restaurant owners: I highly recommend you invite a professional dog trainer to give a dog behavior workshop to your staff to keep them safe when serving people and their dogs.
And, finally, show your appreciation to the restaurant staff for allowing your dog to dine with you by providing a tip of at least 20 percent. Bone appétit!
Protect Your Dog with Pet Insurance

Get an Instant Quote Online
or Call Pets Best at 877-738-7237