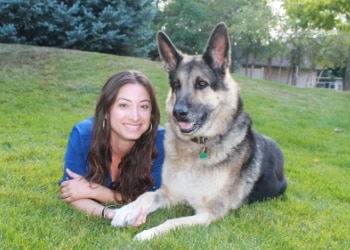 In honor of September being Pet Health Insurance Month, we're featuring stories of real life Pets Best customers. Today we meet Veronique, and her German Shepard, Baron.A few years ago, something prompted me to research pet insurance. There wasn't anything wrong with my pet, but I thought it could be a good thing to have just in case.  I went online and was actually surprised to have found multiple providers of pet insurance, I had no idea it was so popular.  In my search, I found Pets Best and gave them a call. Once I received a quote, I was shocked at how reasonable and affordable their coverage was. The price and the friendly customer service is why I instantly enrolled my pet, and thank God I did.
It was about 6-8 months after I received health insurance for my dog Baron, when he started limping. At first, I thought it was something minor that would go away after a few days, but in fact, it got worse. When I took him to the veterinarian, they said he had torn his ACL and would require surgery.  At the time, I hadn't had insurance long enough to cover the operation, but when Baron unfortunately tore his other ACL a year later, Pets Best came to my rescue.  He recovered exceptionally well from both operations.
On June 21, 2013 I had noticed that Baron was sneezing and his lymph nodes had become enlarged. I took him to the veterinarian where they biopsied his lymph nodes and diagnosed him with Lymphoma. I immediately had him started on chemotherapy treatments.
During the long, three month process, Pets Best was there.  I financially couldn't have gone through the treatment without their help. Pets Best is so wonderful at answering any questions I have and reimbursement for vet services is always prompt.  It's been over a year since Baron was diagnosed with Lymphoma and he's done very well until recently. In the past few months I have noticed his lymph nodes have started to become enlarged again. Recent tests have confirmed the worst, Baron's cancer has returned. We will continue to seek the best treatment possible, knowing we have Pets Best on our side through this difficult time.
Baron has been a true blessing in my life. He is always by my side and reads my every move. He came into my life as a malnourished, one-year-old German shepherd, and now he's a healthy 110lbs. From the minute I wake up, Baron is there to make me smile. He's a big part of each day, and even goes to work with me. Baron came into my life at a very hard time, just before my cousin was killed in Baghdad, Iraq. Baron and I have been through so much together and I will do anything for him.
Thank you to Pets Best for being so wonderful and always being there for us!