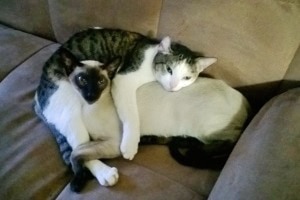 In honor of September being Pet Health Insurance Month, we're featuring stories of real life Pets Best customers. Today we meet Lore, and her four pets protected by Pets Best.
When did you get your pets?
I proudly adopted my dog and three cats between 2011 and 2014 from various rescues.  My only dog is a 4 year old, Flat Coated Retriever named Mason, who I adopted at 18 months. I am also a pet parent to a 4 year old Calico named Bella, a 1 year old Sealpoint Siamese named Kirby, and a 6 month old Polydactyl named Polly.
What do you love about your pets?

I love that they are completely devoted to me. My pets are my family and my emotional support. I love the way Bella cleans Mason's face, it's so adorable!
What prompted you to get pet insurance?

I decided I needed pet insurance in 2003 after my dog was diagnosed with cancer and I struggled to pay her bills.
Why did you choose Pets Best for pet insurance?

I chose Pets Best in 2005 because their coverage and rates fit my needs. I also appreciated the excellent customer service I received before and after I purchased a policy with Pets Best.
What do you love about Pets Best?

As a long-time policy holder of Pets Best, I truly appreciate their rapid claims processing and reimbursement. The level of coverage and reasonable price are also key factors in keeping my pets protected with Pets Best.
Insure your dogs and cats with Pets Best!

Get a Quick, Free Quote Online or Call Pets Best at 877-738-7237