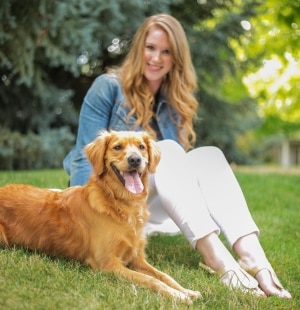 In honor of September being Pet Health Insurance Month, we're featuring stories of real life Pets Best customers. Today we meet Jena, and her two year old golden retriever, Macy.
I found my 9 month golden retriever, Macy, about a year and a half ago and I fell instantly in love with her! I knew I would be one of those pet owners that would pay thousands of dollars, or do whatever it took to keep my dog healthy, if something happened to her. I spoke with my veterinarian about pet insurance options and he recommended Pets Best. After doing some research and speaking with the wonderful customer service representatives, I enrolled Macy under the plan. The representative I spoke with took the time to walk me through all of my options, the different costs, the services covered, and much more. I also found that the website was very helpful and intuitive. Ultimately, what made me choose to enroll Macy under Pets Best was that they had many different options with deductibles and coinsurance amounts that help fit individual needs and budgets, their customer service department was extremely helpful, without being pushy, and their insurance seemed to cover most services.
Filing claims is so easy, and Pets Best is always very timely to provide reimbursement and an explanation of benefits for Macy. I've found that Macy's coverage is very affordable and well worth the cost. While premiums did increase this year, it was for a good reason; Pets Best will now cover hereditary conditions, which is so great for Macy, because hip dysplasia is common for many dogs, including golden retrievers. Pets Best also offers automatic bill pay which I really appreciate so I don't have to remember to write a check every month.
Having insurance coverage through Pets Best gives me peace of mind that Macy will be taken care of if she was to become sick or injured. I know I can always rely on Pets Best for a quick response or help with questions or concerns that I have and they are always pleasant to work with. In my opinion, having medical coverage for my dog is just as important as it is for myself – Macy is part of the family and if she needed treatment or surgery, I feel like a responsible pet owner knowing that I could afford to give her what she needs.
Insure your dog with Pets Best!

Get a Quick, Free Quote Online or Call Pets Best at 877-738-7237