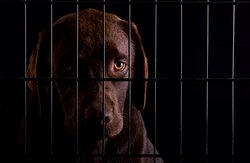 San Francisco, the city named after the patron saint of animals, is rallying efforts to make it illegal to sell animals "great and small."
According to USA Today, the idea of criminalizing the sale of gerbils, turtles and puppies, (and everything in between) is gathering steam in the Bay Area.
USA Today reports that the issue initially arose as a means to ensure dog and cat health care wasn't compromised in puppy and kitten mills, and to lessen the flow of unwanted pets landing in shelters after owners grew tired of their purchases.
"What started out as a proposal to outlaw puppy and kitten mills is extending to the sale of just about every animal that might end up in a shelter," the news source reports.
According to the site, Philip Gerrie, of the San Francisco Commission of Animal Control and Welfare, suggested adding the idea to the commission's agenda as a means to advocate for pet health.
The proposal gathered further interest after Gerrie's idea was swept up by media outlets, and The San Francisco Chronicle ran the story with the controversial headline: "Sell a guinea pig, go to jail."
At the commission's Thursday meeting, the usual handful of attendees turned into a standing-room-only gathering with pet store owners, rescue groups and pet owners all trying to get a word in about animal sales, pet health, and over population of shelters USA Today reports.
"The commission, overwhelmed with varying opinions, voted not to vote, tabling the debate until at least another month," the source reports.