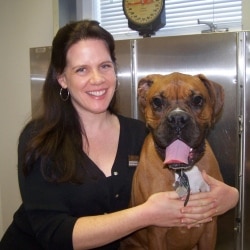 Latest My Vet's the Best contest honors veterinarian Dr. Kathleen Heneghan
BOISE, Idaho – Pets Best Insurance Services, LLC, a leading U.S. pet insurance agency based in Boise, Idaho, announced today that veterinarian Dr. Kathleen Heneghan has been voted the most recent winner of the agency's My Vet's the Best contest. The nationwide contest honors veterinarians for their outstanding service.
The latest round of the contest brought in 8,218 votes cast by pet owners across the U.S. through the Pets Best website, www.petsbest.com, and the company's Facebook page.
"This contest serves to honor veterinarians who play a significant role in keeping pets in their communities healthy," said Dr. Jack Stephens, founder of Pets Best. "Dr. Heneghan strives to provide the highest quality of care for all of the animals she treats, and it is rewarding that so many people want to recognize her hard work and dedication."
Dr. Heneghan, who practices at Elmwood-Grove Animal Hospital in River Grove, Illinois, won the contest after receiving 3,525 online votes. She was among hundreds of veterinarians nominated for the seasonal award. The contest's other seven finalists each received a significant number of votes. Runner-up Dr. Lollie Mensik of Stonebriar Veterinary Centre in Frisco, Texas, had a total of 2,805 votes.
As this round's winner, Dr. Heneghan received $1,000 from Pets Best to treat animals in need. Dr. Heneghan and the team at Elmwood-Grove Animal Hospital plan to use the $1,000 cash prize to contribute to their Needy Animal Fund, a program helping stray animals from two Chicago suburbs. The pet owner who nominated Dr. Heneghan also received $200 from Pets Best.
Dr. Heneghan is known for her ability to form relationships with her clients and patients.  A Chicago native, she received her bachelor's degree from Loyola University and graduated from the University of Wisconsin in 1994 with a degree in veterinary medicine. Dr. Heneghan enjoys veterinary medicine but also finds interest in dermatology, oncology, behavioral medicine, ultrasonography, and surgery.
"I think I connect with my patients and clients, and I look at it from both sides of the exam table. I'm both a doctor and a pet owner. When pet owners know that I understand their situation, I think it makes them more likely to listen to my recommendations," Dr. Heneghan said. "I try to talk with them, not down to them. We're all in this together, for the lifetime of their pet, and I'd have it no other way."
In Dr. Heneghan's spare time, she enjoys traveling, listening to traditional Irish music, spending time with family and friends, including her adopted boxer Pogue, and exploring new places around town.
In 2010, Pets Best became the nation's first pet insurance company to develop a contest aimed at recognizing outstanding veterinarians. Each year, hundreds of veterinarians receive nominations from grateful pet owners. While voting for the contest's seasonal winners is open to the public through the Pets Best website and Facebook page, each year's grand prize winner is selected by an internal review panel comprised of respected veterinarians.
For more information about the My Vet's the Best contest, visit www.petsbest.com/vetpromo.
About Pets Best Insurance Services, LLC
Dr. Jack L. Stephens, founder and director of Pets Best, founded pet insurance in the U.S. in 1981 with a mission to end euthanasia when pet owners couldn't afford veterinary treatment. Dr. Stephens went on to present the first U.S. pet insurance policy to famous television dog Lassie. Pets Best provides coverage for dogs and cats. Dr. Stephens leads the Pets Best team with his passion for quality pet care and his expert veterinary knowledge. He is always available to answer questions regarding veterinary medicine, pet health and pet insurance. The Pets Best team is a group of pet lovers who strive to deliver quality customer service and value. Visit www.petsbest.com for more information.
Pet insurance coverage offered and administered by Pets Best Insurance Services, LLC is underwritten by Independence American Insurance Company, a Delaware insurance company. Independence American Insurance Company is a member of The IHC Group, an organization of insurance carriers and marketing and administrative affiliates that has been providing life, health, disability, medical stop-loss and specialty insurance solutions to groups and individuals for over 30 years. For information on The IHC Group, visit: www.ihcgroup.com. Additional insurance services administered by Pets Best Insurance Services, LLC are underwritten by Prime Insurance Company. Some existing business is underwritten by Aetna Insurance Company of Connecticut. Each insurer has sole financial responsibility for its own products.
Pets Best is a proud member of the North America Pet Health Insurance Association (NAPHIA).
###
Protect Your Cats & Dogs with Pet Insurance

Get a Quick, Free Quote Online
or Call Pets Best at 877-738-7237