By: H.R.
Pets Best Insurance Editorial Manager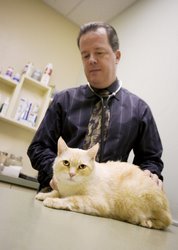 Hey all you cat owners—did you know that August 16 to August 22 is National Take Your Cat to the Vet Week?
Because cats generally don't display signs of disease as clearly as other animals, cat owners can easily miss cat health issues.
According to the Chicagonow.com website, over 50% of all cat owners don't take their kitties in for annual check-ups; they only take them to the veterinarian if they begin to show severe symptoms of illness.
Though cats are generally regarded as self-sufficient pets, they too require regular wellness care to help catch issues early on.
Cat litter company, Feline Pine, said they created this national awareness day because they care about cat health.
"Along with making an all-natural chemical-free litter, we're dedicated to helping cats live long and healthy lives," Feline Pine Brand Manager Dan Henderson told the Catster website.
The company's in-house veterinarian, Dr. Michele Gaspar said cat owners generally miss telltale signs of problems early on.
"Cats are often subtle in their signs of discomfort or illness… when caught early enough, many diseases can be treated so that a cat enjoys a good quality of life," Gaspar told the news provider.
Celebrate your cat's health this week by taking him or her to the veterinarian. Chances are your cat is in purrfectly good health—but it's better to be safe than sorry.