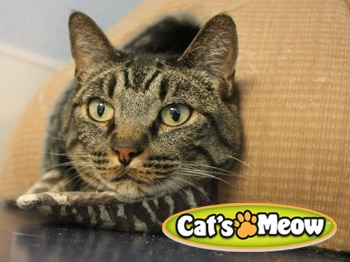 The product: Cat's Meow, a battery-operated floor toy for cats.
The price: $35.89 plus tax. The ads say $19.99, but the "buy one get one free" offer is required, and each toy comes with a postage and shipping price of $7.95. (You can upgrade to a deluxe 3-speed version for an extra $5 per toy, or $45.89 plus tax, total.)
The promise: "Entertains and stops destructive clawing or scratching."
The results: Cat's Meow was first presented to two playful cats, Luisa and Monica, ages 10 and 9. They both kept their distance at first, but Luisa eventually crept in to pounce a few times. Monica later exited the room, taking the longest possible way around the toy.
Luisa lost interest after about a minute of play, so the dog was invited to check it out. She sniffed and jumped back a few times, then turned her attention to the cats. Next up, a toddler checked it out. He giggled a little, then crawled toward the camera to play with it instead.
In the end, Cat's Meow was a flop for Luisa and Monica, who have more fun with an empty shoe box and a little cat nip. And unfortunately, just this morning they were caught scratching their favorite arm chair, so it didn't do anything to cure their urges to scratch. If the toy moved more slowly and paused more often, it might have given the cats more of a chance to creep in and strike.
Is Cat's Meow worth it?
So far, 4/4 say no, but one cat owner said he might wait till they're available for sale individually in-store. (See added reviews below.)
But we're not throwing in the towel just yet! We'll be updating this blog periodically as other cat owners in our office try it out and share their results with us. Have your cats played with Cat's Meow? We'd love to hear about it in the comments!
Skip to :37 to see the cat play, 1:00 to see the dog's reaction and 1:20 to see the toddler's reaction.

Addition from Raychel: Cleopatra, my 11 year old Siamese cat, seemed to be interested in the Cat's Meow and was briefly entertained. Diesel, our 6 year old Maine Coon, took a bit to warm up to it as he it appeared he was trying to figure out what it was and what it was going to do. Harley, our black and white 1 year old cat, had no interest in it. All in all, I don't think we would buy Cat's Meow. Our cats love to play with compressed cat nip mice, and their favorite toy is Da Bird Cat Catcher Toy.
Addition from Isis: Six-year-old Cito was completely uninterested. He prefers to roam the yard and lay in the sun.
Addition from Alex: Gary, a 7 year old Lynx Point, reacted with mild interest, followed by mild anxiety, followed by careful planning, a lazy attack, a more aggressive attack and full committal to finding out just how the heck to conquer the dang thing. He liked the toy and would have continued playing with it for probably another ten minutes or so. I found myself wishing it had more speeds though. At times it was almost too slow for him to notice. Typically, his favorite toy is a stuffed fish attached to an elastic string.
Addition from Kendra: Sphynx and Lyla, each 1 year old, weren't too sure about it, other than "Mom has something new, I want to play with it."  I set Cat's Meow on my living room floor and turned it on, but didn't get much interaction from my cats. The just sat on the outer edge, watched it move around and pawed at it a time or two.
After having Cat's Meow home for the weekend, I wouldn't say it's worth the cost. My cats seemed to enjoy it for a few minutes, maybe go bonkers a time or two, but then the fun was over and it was left to spin by itself. If the rotation would have a second or two delay longer, they might actually feel like they were hunting something, rather than chasing something they couldn't get.