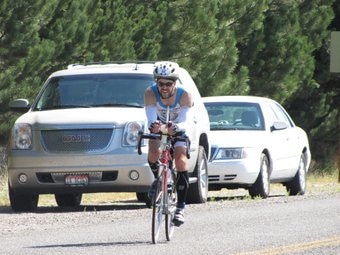 I work for a pet insurance company by day, but in my spare time, I love to race in triathlons. During my most recent competition, my passion for animals and racing intersected.
With ice poured down my suit to stave off the heat, I was running down a lonely stretch of a country road. Only fellow competitors and I were out this far. It was over 5 hours into my half-iron distance triathlon, but in spite of the isolation, I noticed a most unusual spectator.
There was no cheering, encouragement, or cowbells clanking—just a silent stare. The stare was enough to make me stop in mid-stride and turn around. Here at mile 67 of the 70.3 mile course, was a pathetic sight: a little orange and white kitten. He was emaciated and injured. A patch of fur was missing from the top of his head, and he had an open, oozing wound. I knew this cat needed help immediately, but what could I do out on a race course in the middle of nowhere? I had no phone and only a sports drink and some carbohydrate gel.
As other runners passed me by, I called the little guy over and he came bounding out of the farmer's field, happy to have some attention. He purred and rubbed against my drenched, salt covered legs. I jogged away a short distance and called him again. After he came running, I had a plan— if I could just get him to follow me to the nearest aid station (where water, ice, and food are handed out to athletes), maybe the volunteers there could call the local animal shelter and look after him. I did not want to pick him and carry him, since I didn't know how he would react. And I certainly didn't want to get injured in my present condition.

Or Call 877-738-7237 to speak with a Pets Best Agent to Add a Pet to Your Policy
So there we were, my little kitten buddy and me, both trying to survive this race course. Given that the name of the race was Vikingman, I decided to give the little guy the Norse name of Oden. Despite his divinely inspired moniker, his endurance was not that of the gods. I had to stop frequently and coax him more and more to keep up his effort.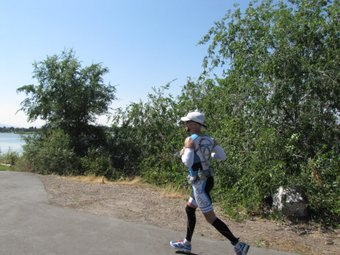 It wasn't long before I could see the next aid station, but it still took a while of this run and coax game to arrive there. The volunteers at the aid station couldn't help but be sympathetic to the situation, so I left Oden in their care after suggesting they call a local animal shelter.
Even though I lost at least ten minutes off my finish time, it was well worth it— that's just how a Pets Best Insurance employee is supposed to race. With this little bit of rest, I was able to put some extra zip in my run with a big smile on my face for the final few miles.
Editor's Note: We have contacted the event organizers and will update everyone on Oden's whereabouts when we have the info!