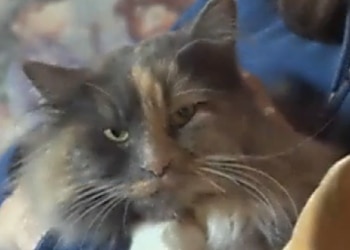 According to KTVB.com, back in July 2012, Cissy and Ken Myers went camping at Silver Creek Falls in Oregon. They said they always took their two cats and dog camping with them. However during this trip one of their cats, Mazy May, went missing. The Myers conducted a search for a month, but with no luck in finding their cat.
Then after 16 long months of separation, the Myers family was reunited with their Mazy May, something they never thought would happen. About two weeks ago, Martha Duckworth, a Park Ranger at Silver Creek Falls discovered the missing cat. Duckworth commented it was amazing that Mazy May survived the entire winter and wasn't eaten by a bobcat or a bear, noting she must have lived off mice and bugs.
Duckworth, a cat lover herself, had just put her cat down the week before. So she was very happy to be able to reunite the Myers with Mazy May.
Cissy recounted that when she got the call about Mazy May being found, she was shaking. She told KTVB.com, "It's still so surreal that I'm actually touching her after all hope of finding her was gone."
Story and photo originally published http://www.ktvb.com/news/regional/234256811.html
Protect Your Cat with Pet Insurance

Get a Quick, Free Quote Online
or Call Pets Best at 877-738-7237