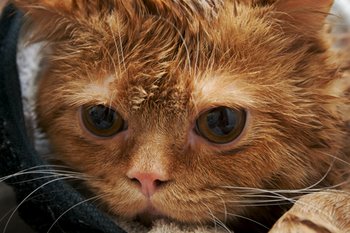 When a man kayaking in Boston's Charles River noticed something unusual in the water, he had no idea he was about to save the life of a helpless creature.
According to the PeoplePets website, "He wasn't sure what the object was, because there was very little of it above water."
The news provider explains that the kayaker, who declined to be identified, lifted the crate above water and discovered a full-grown cat locked inside.
The cat, who has since been named "Grandma Moses," was taken to a veterinarian immediately, where her body temperature was returned to normal thanks to top-notch cat health care.
"Staffers warmed the cat, then treated her bloodied paws, which she presumably injured while trying to escape her sinking crate," the source reports.
According to PetPeople, X-rays revealed that other than swallowing large amounts of air, likely gasping for breath, the cat sustained no internal injuries.
As Grandma Moses is restored to normal cat health, officials are trying to find out how she got into the river in the first place and why.
"Animal abandonment in Massachusetts is considered animal cruelty, a felony," the site reports. "It can be punishable by a $2,500 fine and up to five years in prison."
According to the source, Grandma Moses is now enjoying life, "exploring her surroundings" and patiently waiting for a loving home.
"We're waiting to make sure she's healthy, and want to see what the investigation turns up," officials told the news provider. "But we've already had several people contact us expressing interest in adopting her."