Posted by: H.R.
Pets Best Insurance Editorial Manager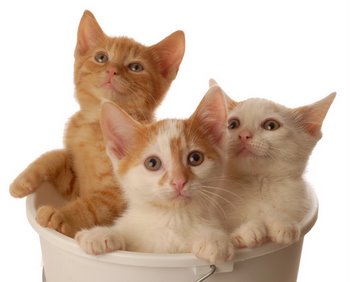 I never thought I would be a mother at the age of 10. Growing up we always had dogs as pets. There are pictures of me as a toddler laying on our Great Dane.
My family was never a cat family. Now that I think of it, no one in our family has cats. My sister, 9 at the time, somehow convinced our parents to let her take in a stray cat that was hanging around our neighbor's house. Not too long after we "adopted" Katy, we found out that she was pregnant.
Katy ended up giving birth, in our parent's closet, to 10 tiny kittens in perfect pet health. A few days after the kittens were born, Katy went outside and never returned. We found out later that she had been fatally hit by a car. We were then left with the responsibility of feeding kittens. My mom, sister and I took on the role of mother to the kittens. We had to learn how to bottle feed the new kittens. Luckily for us our German Shepherd, Sherra, helped with their grooming and became like a big sister to them. Feeding newborn kittens in the beginning was tiring. We had to feed them every two hours, even through the night.
We ended up keeping two of the kittens. Tammy Fay, named for the markings around her eyes that resembled eyeliner, was my sister's cat. My cat was named Purrfect due to her having the loudest purr of all of the kittens.
Even though raising the kittens was hard work, I would do it again in a heartbeat. Knowing I was responsible for seeing to the cats' health care, is a feeling I'll never forget.